Provide your happy chickens a warm and safe place they can call home
Building a coop or buying one?
It's usually cheaper to build a coop than to buy one.
But, here's the thing…
Building a coop requires skills, tools, and time. If you're too lazy to construct, then buying one makes more sense – plus, there are various well-crafted chicken coops on the market.
As someone who raises chickens, I've read and watched various reviews about poultry coops. The most important consideration in buying a coop is the size.
The size and coop space depend on how many chickens you will raise or plan to raise.
Aside from that…
Consider how much space or how much room a coop has, depending, of course, on the number of your feathered friends.
Who wouldn't want a reliable coop for safeguarding your flock, right?
That said…
Great ventilation and insulation would greatly help you, especially if you just started raising chickens.
In colder climates, insulation is needed, but ventilation is also vital.
Well, you might say that chickens can survive in the winter, even in sub-freezing temps, thanks to their feathers that provide great insulation.
But, don't forget…
We don't have just one breed of chicken – we have several breeds that are not resistant to cold or extreme weather conditions. Some are susceptible to frostbite.
It's also true that chicken droppings create ammonia, which isn't healthy for the chickens – or you – to breathe in. Adequate ventilation will also help keep your flock dryer and more comfortable.
Placing our feathered friends in a nice and comfy environment prevents them from getting sick and greatly helps them in their growth and development – plus more supply of eggs in the future.
So…
If you can't build one – buy one that will not break your bank and chickens.
We round up seven coops that accommodate up to six chickens.
Here, you'll learn and discover more about:
Seven best chicken coops for six chickens;
Pros and cons of each product;
Some of the things you need to know if you want to start raising flocks; and
Lots more…
If you're itching to know…
Scroll for more!
INTRODUCTION
When it comes to the size of your coop…
Remember that a standard-sized chicken needs an area of at least 3 square feet. Even smaller varieties like bantams can thrive in coops that are only 2 square feet in size.
Additionally, they require access to at least 8 to 10 square feet of roaming room, which is a crucial factor to consider when raising hens in an urban setting or other confined areas.
In colder climates…
Chickens will require heated and insulated coops and more than simply a perch in regions prone to freezing temperatures. Naturally, discovering frozen, cracked eggs in your coop is just sad.
But it's even sadder to discover that it has harmed or frozen your chickens' feet to their perches.
Chicken coops with a bar or circular perch should be avoided by those who live in colder climates in favor of those with a flat wooden choice since chickens need to be able to cover their feet when they sleep fully.
Now…
We're lucky to live in a time where there are plenty of options that make you wonder which is the best one.
We searched the market for the best durable chicken coops that can be a haven and sanctuary for our feathered friends.
Every chicken keeper has different needs depending on the breeds of chickens they raise and their budget.
Taking that into consideration…
We made sure to include different designs of poultry coops, from solid wood to plastic construction, and different price points, too.
Scroll down to find the new home for your chickens!
Best Chicken Coop For 6 Chickens
Best Walk-in Chicken Coop For 6 Chickens – Editor's Choice Award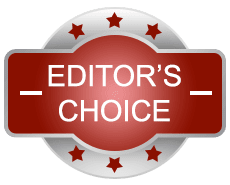 PETS IMPERIAL Double Savoy Large Chicken Coop
Material – Wood, Plastic, Metal
Capacity – Up to 6 small chickens
Number of Levels – 2
Number of Doors – 2
Manufacturer – PETS IMPERIAL
The Bottom Line:
This wooden chicken coop has openings for easy egg gathering, chicken wrangling, and cleaning. You can also take the roosting bars out and the nest dividers easily.
Pros
Easy to assemble
Well-thought design
Allows you to access the house from all sides
The roof and nesting areas open nice and are super convenient
Locks on nesting boxes are great
Cons
Roaming area not included
Thin wood
Relatively pricey
Summary
Kicking off our list is our Editor's Choice by Pets Imperial. It's smaller than it looks but durably crafted using stained timber.
Although six bantams will be snug, it will be a terrific coop for your chickens. Up to six full-sized chickens can only fit in this, so trying to fit more than the capacity overcrowds them. 
So, It would be great if you purchased two of them and connected them with the attached run.
In terms of cleaning…
This is easy to clean. The main area just slid off, which is great! I also like that you can easily take the roost bars and nest dividers out.
You can also open the coop at the top from both sides. It has two openings – one on each side that lifts.
It also features a pull-out tray at the bottom and windows that slide. And a door locks from the inside to the outside, so they are all locked in the house at night.
A well-thought design, indeed. 
In terms of durability…
I would say that the wood is a bit soft. Hit it hard enough, and it will dent really well. 
It doesn't seem stable, but it won't fall apart as it's held together with bolts and nuts. Not to mention, the wire in the run is heavy-duty and will protect your flock.
How about weather protection?
A part goes down the center of the roof to keep out invaders and rain but is not durable enough. So, a paint spray with a water seal could do the trick to provide the coop with an extra waterproofing layer.
If you're wondering about the ease of getting food in and out…
I'd say that you have to crouch down and reach into the run to place food and water. If you're not careful (even if you are), you might get droppings (if you know what I mean) on your clothes.
On a positive note…
This is a good buy for the price. It's not very big but will work fine for your silkies, bantam, day-old chickens, etc. It's functional, though the materials make it less durable, BUT with a little modification and handiness, you can solve these cons.
Best Budget Chicken Coop For 6 Chickens – Best Value Award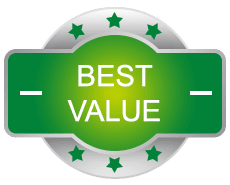 Esright Large Chicken Coop
Material – Engineered Wood
Capacity – Up to 6 small chickens
Number of Levels – 1
Number of Doors – 1
Manufacturer – Esright
The Bottom Line:
This features three roofs and outside the door to open and ventilate. Light and easy to move around the house for your chickens that won't break your bank.
Pros
Relatively easy to install
Works great inside of a fenced run
Waterproof (if drizzle only)
Durable and screwable polymer
Cons
It's not suited for areas with extreme cold temperature
Thin wood frame
Not all holes are pre-drilled
Summary
Coming in at number two…
Our Best Value is not super big but could fit up to 6 small breeds – let's say bantam.
You could still place standard chickens, but it only holds a few.
Right off the bat…
It's a cute coop, easy to assemble, and clean. However, you can improve the durability. We notice gaps between the main house and the nesting boxes, so there could be an interior leakage.
But this isn't a deal-breaker…
A coat of exterior paint is great for extending durability. You can add to the parts of the coop that open up, providing the added security needed to keep out predators.
Reinforcement under the nesting box is also necessary. Plus, elevating the entire box a few inches should help with safety.
In our case, we placed this inside a 10'x15′ welded chicken wire with sheet metal around the base and an electric fence running around the perimeter. Without this barrier, it won't last long.
On a positive note…
It has decent ventilation for the summer though not insulated for winter. So, we installed foam board insulation.
The pull-out tray for cleaning is also a wonderful idea. The problem is that it pulls out from the back, meaning that you can't put the coop up against anything and need clearance on all sides.
Overall, our Best Value will serve you a year or so if you have a certain budget and need a coop.  Overall, great value with slight modifications for durability.
Best Design Chicken Coop For 6 Chickens – Top Pick Award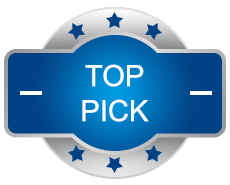 SnapLock Formex Large Chicken Coop
Material – Plastic
Capacity – Up to 6 small breeds
Number of Levels – 1
Number of Doors – 1
Manufacturer – SnapLock
The Bottom Line:
Its uniquely designed large hen house made with plastic construction is easy to put together and clean. Your chickens are safe and secure during warm and cold weather.
Pros
Well-thought design and easy to assemble
Easy to clean
Adjustable ventilation
Secure locking system
Cons
The base became unstable over time
No included roaming area
Relatively pricey for the size
Summary
Now, if you're on the fence about buying a wooden chicken coop, our Top Pick is waving at you!
We couldn't be more pleased.
You'll first notice the unique design – like an old playhouse you set up for children.
It's a bit pricey, but with the plastic construction, it will look brand new, unlike the wooden coop. 
It's a breeze to put together as it is well-engineered and fabricated.
Not to mention light enough to move or carry around.
Aside from that…
Cleaning is easy and simple. It stays dry during heavy rains and has enough ventilation, so our hearty chickens aren't hot at night.
Believe it or not…
We have had ours for two years after a lot of heartbreaks from other brands. This coop double-walled is a lifesaver 'cause our chickens stay warm even in extremely cold weather. We just throw extra pine shaving in the winter and close the vents.
Happy us, happy chickens, indeed!
So, we highly recommend this coop to anyone looking to keep raising backyard chickens comfortable, safe, and in style!
The biggest plus for me is the ease of cleaning. The trays are very easy to pull out and empty. 
However, one of the roosting bars is a little close to the nesting box, so the droppings land there. But, you can hose it down easily.
Moreover…
Since there appeared to be a mismatch between the parts and the slots it's supposed to fit in – we had a slight difficulty assembling this coop. It fought us until we finally got it to snap in by compressing some of the edges.
But, the fact that I can take parts off and wash them is worth the penny.
Best Water Proof Chicken Coop For 6 Chickens
Aivituvin Chicken Coop Wooden Chicken House
Material – Wood and metal
Capacity – Up to 6 small chickens
Number of Levels – 1
Number of Doors – 4
Manufacturer – Aivituvin
The Bottom Line:
This coop is great for three to four standard size chickens and can accommodate up to 6 small chickens. It comes with two nesting boxes and two roosting bars. You can move this using the wheels that it comes with.
Pros
Easy to assemble
It features multiple hatches
It comes with wheels for movement
Roaming area included
Cons
Bottom frame is thin
Paint on wooden parts come off over time
Relatively pricey
Summary
At the middle of our list…
I would say that this is a pretty good coop for someone starting with just 3 or 4 chickens. 
This is great for four silkie chickens but a max of three for normal-size breeds.
If you want to house up to six chickens, it's possible with small-size breeds. Other than that, you can use this to keep a sick chick isolated. A nice guest house for quiet time and laying eggs.
If your chickens are free-range during the day, it's good for just housing.
Aside from that…
The price is right given that you can move this using the wheels (can be installed or not) it comes with. We also love the little attachment that holds up the ramp as you move the coop around.
However…
The paint on the wooden parts will come off using a scrub brush. So, using it for cleaning is not really a great idea. But, of course, you can always repaint if it comes off.
Overall, this coop is a nice addition to your other large coops, where the pros outweigh the cons.
Best Multi-Level Chicken Coop For 6 Chickens
U-MAX Large Chicken Coop, 143.5″ Wooden Chicken Coops
Material – Wood
Capacity – Up to 6 chickens
Number of Levels – 2
Number of Doors – 2
Manufacturer – U-Max
The Bottom Line:
This backyard hen house features a tongue and groove construction, and the safe, non-toxic stain adds durability and style. It features wheels and a handle to move the house freely.
Pros
One year warranty is available
Easy to move
Ventilated wire mesh included
Roaming area included
Cons
Relatively pricey
Not as sturdy as other options
Summary
U-Max Large Wooden Chicken Coop is next on our list.
This solid wood construction and asphalt shingle roof are designed to last and keep your pets safe and secure. 
It has six nesting boxes, two internal roosting bars, and a ramp. The nesting box where the top lifts provide easy access to eggs. And the bottom pull-out tray makes cleaning a breeze.
Aside from that…
The shingled waterproof roof will protect your chickens from severe outdoor conditions. And it provides easy access with its screened front door.
It features two levels and enough room for up to three of your feathered friends who will feel like they're on vacation. The wire mesh enclosed lower level provides outdoor access while protecting your brood.
Best Large Chicken Coop For 6 Chickens
ChickenCoopOutlet 87″ Wood Chicken Coop
Material – Wood
Capacity – Up to 6 chickens
Number of Levels – 1
Number of Doors – 2
Manufacturer – ChickenCoopOutlet
The Bottom Line:
This coop looks super cool but needs a few reinforcements like adding support around the base to strengthen it and keep predators. Plus, it's extremely easy to put together though it does come fully disassembled.
Pros
Roaming area included
Pull-out tray for ease of cleaning
Nesting box with easy access
Cons
Not as sturdy and secure as other options
Relatively pricey
Summary
Next up is… 
…by the ChickenCoopOutlet that features a roomy interior that easily accommodates up to three hens. It's also possible to house six chickens. However, an additional nesting box is needed.
The open-air run allows them to spread their wings and talons. A wood ramp leads into the spacious coop, including a three nesting box that you can access via the hinged lid.
Speaking of access…
There are two doors (front and rear) and a window. You can access the rear door to have a simple and convenient cleaning.
This complete home is constructed from solid wood and features a weather-resistant asphalt roof. It features a spacious, fresh air pen so your chickens can stay active.
Best Capacity Chicken Coop For 6 Chickens
123.6″ Large Outdoor Fir Wood Chicken Coop
Material – Asphalt, Fir wood
Capacity – Up to 6 chickens
Number of Levels – 2
Number of Doors – 6
Manufacturer – JKSDF
The Bottom Line:
This outdoor chicken coop features a removable door between two runs. The detachable design separates into two houses to hold more chickens.
Pros
One year warranty is available
Available in various sizes
It features a detachable design
Two complete houses
Cons
It doesn't have enough space for chickens to roam
Accommodate a few large chickens 
Summary
Now for our number seven on this list is…
…not just one but TWO houses for your chickens are waving at you!
This ultimate poultry coop is loaded with amenities and style. The upper level features a roosting bar and nesting box as well as a removable tray that holds more droppings and for easy clean-up.
A nifty feature this coop has is…
…the detached design where you can separate the two houses to hold more chickens. You can use it to isolate chicks when sick or to lay eggs.
Inside you'll find a roosting bar, ample nest boxes, and a sleeping area.
Plus, there are multiple access doors and a hinged lid to easily grab fresh eggs.
Aside from that…
This entire coop is designed to house not just chickens but other animals like rabbits, ducks, roosters, and other small animals. 
It's made from a block of solid rain-resistant fir wood and a black asphalt roof. It has the durability to keep your animals safe from most weather conditions. 
It has raised housing areas and caged running areas, and these features provide your chickens ample space to live.
Why Trust Us?
We know that you care for your chickens as much as we do.
We must provide our chickens with their own place to live, grow, walk, lay eggs, etc.
That's why…
It's important to consider which coop is best for a specific breed of chicken.
So, this research and testing of all seven coops provides us with information on the best ones.
Buyers Guide: How To Choose The Best Chicken Coop For 6 Chicken…
What are the different types of Chicken Coop For 6 Chicken
Features to look out for
Product and specifications explained
These are things to consider
Jargon buster
Chicken Coop For 6 Chicken Top Tip(s)
FAQ: Frequently Asked Questions
Q – What is a good size chicken coop for six chickens?
A – It would be great to have at least 24 square feet for standard breeds. This provides the space for food, run, nest box, etc., for six chickens.
Q – What do you need to have inside a chicken coop?
A – chicken coop should have a feeder, water through/container, roosting area, and a nest box. The space should also be enough for chickens to stand, walk, or even roam, if possible.
Q – How much is Overez large chicken coop?
A – This heavy-duty and quality-made coop is around a thousand dollars. You can check out their product on Amazon.
Conclusion: Best Chicken Coop For 6 Chicken
And that's our seven chicken coops for six chickens.
Well, having your own chicken coop – or even raising a flock can be tedious. But raising them is still great, given that we have more options to keep our feathered friends safe and secure.
If you're open to an opinion or two…
Our top three in this list got your flock: The PETS Imperial Double Savoy Large Poultry Coop, Esright Poultry Coop, and SnapLock Formex Poultry Coop.
Our Editor's Choice by PETS Imperial may be smaller than it looks, but it's durably crafted and would fit six bantam chickens.
On the other hand, our Top Pick by Esright may be expensive for its size, but it's reasonably pricey.
Some may not like a plastic construction coop, BUT…if you want something easier to clean and would last long, this is for you. It's resistant to moisture, warp, crack, and split.
And, last but not least…
Our Best Value is highly recommended for it's made of a blend of recycled polymers, wood, and metal.
Not only is it cheaper compared to other poultry coops, but also light and easy to move. Plus, it has decent ventilation and will last a year or more, providing modifications and improved durability.
Share with us if you have to pick your coop for your flock – we'd love to know your thoughts.