Your rugged camping knives do not belong to the kitchen at home – so get yourself a good camping knife for cooking and elevate your every outdoor meal
Best Camping Knives for Cooking: You may have the best cooking knife at home. But it will be no match to the hard work and changing weather and environment that camping knives for outdoor cooking go through.
Choosing a backpacking knife for your outdoor kitchen isn't like buying a regular one. There are a few more things to consider.
And that's why we've tested ten of the best camping and survival knives for cooking on the market today, just so you won't have to go through endless trial and error to get the one you need.
In this ultimate review of the best camping kitchen knives, we'll be looking into:
The best camping cooking knives for different needs and preferences;
Knives for every budget;
Our experiences with each one of them;
Things to consider when buying your own camping cooking knife;
And lots more!
After the list, we've also prepared a buyer's guide for you, so make sure to check it out.
Ready to have the best feast ever?
Let's get into it!
SECTION 2: Best Camping Knives For Cooking
Best High-Friction Grip Camping Knife For Cooking – Editor's Choice Award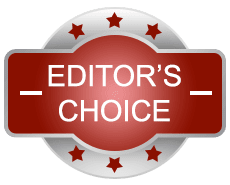 Morakniv Companion Fixed Blade Outdoor Knife
Blade Length – 4.1 inches
Blade Material – Carbon steel
Design – ¾ tang fixed blade
Handle Type – Hard plastic
Manufacturer – Industrial Revolution
The Bottom Line:
One of the hardest knives on the market, Morakniv's Companion Carbon Steel is ideal not just for the kitchen camp but for all-around use, thanks to its strength and durability.
Pros
Heavy-duty carbon steel blade

Long lasting and durable

Patterned and textured grip

Very solid sheath

The belt clip is very secured, and tight

Easy to reshape and sharpen

Excellent edge retention

The sheath has a drain hole
Cons
Not rust-proof

Not full tang
Summary
Whether you're looking to get your first camp knife ever or you're a camp kitchen veteran who's looking for your next long-term camp knife, anyone will most likely tell you to get a Morakniv knife. 
Mora knives are already very much well-loved thanks to their excellent quality, what more if it's a very hard carbon steel blade? Because of this, this carbon steel version of the famed Morakniv Companion is this review's Editor's Choice. 
Many campers and bushcrafters prefer high carbon steel camping knives because they're made to be very hard and indestructible. 
And our Companion didn't disappoint. 
Aside from using it in our camp kitchen, I was also able to use it a couple of times for batoning and creating a wooden walking stick. 
And during those times, this bad boy didn't lose its sharpness, not even once. Needless to say, I once had to sharpen it only once. 
Its blade is not too thin but I was able to filet a fish without making it look like a disaster, chop vegetables, and cube meat without any difficulties. 
Just take note:
Unlike stainless steel, carbon steel camping knives aren't resistant to rust and corrosion. So, as any good bushcrafter or camper would know, you'd have to clean this blade after every use, especially if it's been used for acidic fruits and vegetables such as tomatoes and citrus fruits. 
Now, that doesn't sound like much work, does it? 
If maintained well, a Morakniv carbon steel knife could very much last for years, as proven by our numerous Mora camping knives. 
And it's sheath…
…it's hard plastic, and it's thoughtfully designed. As a matter of fact, I really like how it has a drain hole at the bottom! 
Camping knives that aren't rust-proof need to be dried before being stored or kept away. The thing is, the problem is always the sheath, which tends to store water or dirt inside. 
Morakniv has clearly thought about this little detail and put a hole for drainage. Plus points for that!
Moreover, the knife is also very snug inside and has this clicking sound whenever I stick it inside the sheath. Pulling it out is quite of a challenge that could require you to remove your belt, but that also means a security that it won't get lost along your way.
Best Budget Camping Knives For Cooking – Best Value Award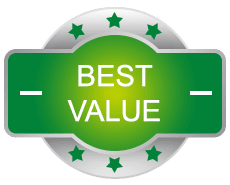 Buck Knives 104 Compadre Camp Knife
Blade Length – 4.5 inches
Blade Material – 5160 spring steel
Design – Full tang fixed knife
Handle Type – Micarta
Manufacturer – Buck Knives
The Bottom Line:
This sturdy spring steel fixed blade excels in good edge retention and its heavy-duty blade.
Pros
Can do heavy-duty tasks

Very strong spring steel blade

Good edge retention

Features an integrated finger guard
Cons
The handle is not very ergonomic

Low corrosion resistance
Summary
This spring steel knife is ideal if you're looking for a good kitchen cooking blade that you won't feel bad abusing.
Thanks to its agreeable price along with valuable features fit for much higher price tags, this Buck Knives 104 Compadre knife is this review's Best Value awardee. 
And it also looks as cool as its name! A mix of unique materials, this fixed blade is made from 5160 spring steel. 
In case you didn't know…
…spring steel has a good following among campers, thanks to its sturdiness. 
This Compadre knife isn't only tough but also has high impact resistance, just perfect for the hustle and bustle at camp. 
What's better is its blade is pleasantly thin, so I really enjoyed using it on our fruits and vegetables with its clean cuts and precise slices. 
Its blade doesn't wear out easily, as well. I only had to sharpen it once upon receiving it, even though it came already razor-sharp. 
It's just a bit of a shame because it has low corrosion- and rust resistance. But nothing can't be solved with good cleaning and maintenance of your kitchen knife. 
As for the handle…
…it's both rustic and beautiful with its canvas Micarta material. This material has enough texture on it for a good grip. But the overall shape of the handle doesn't allow for much ergonomics. 
Still, it's not a beefy knife that you'd have a problem holding while in use. It fits just right in my hand, so there's no chance of it slipping or flying away. 
This rugged beauty is encased in a leather sheath. I can confirm that it's genuine leather and tough enough to protect the blade and you from being hurt.
Best High-Quality Camping Knife For Cooking – Top Pick Award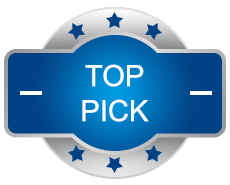 Morakniv Companion Fixed Blade Outdoor Knife with Sandvik Stainless
Blade Length – 4.1 inches
Blade Material – Stainless steel
Design – ¾ tang fixed blade
Handle Type – TPE rubber
Manufacturer – Industrial Revolution
The Bottom Line:
A knife that you can carry anywhere, the well-loved Morakniv Companion is rust-resistant and tough for more than kitchen tasks.
Pros
Tough high-quality Swedish blade

Available in lots of colors to choose from

Rust-resistant

Patterned and textured handle for a secured grip

It comes with a solid sheath and clip for mounting

The sheath also has a drainage hole

Backed by limited lifetime warranty
Cons
The blade is a bit more delicate

It could need sharpening after very heavy tasks
Summary
Looking for a good knife for your kitchen camp but also want to do more than food prep with it?
Then the Morakniv Companion is your best…well, companion. 
If you're into knives, you'd know how loved by the crowd the Companion is. But it's its toughness and quality that we got it for, and it didn't disappoint, making this bad boy this review's Top Pick!
It initially attracted me with its multitude of colors. It's actually available in 9 different colors, so that's for you who like to put their personalities into their tools. 
But aside from that…
…I also find it much easier to spot the knife with its bright color, so plus points for that. 
The blade is stainless steel (also available in carbon steel blade variety). That said, one of its best attributes is its rust-proof quality. 
So if you want something that you can also use for kayaking, boating, or fishing, this is your best bet.
The blade came already razor-sharp so I didn't sharpen it upon testing. I was able to slice a paper cleanly, as well as lemons and other vegetables. I was also able to use it on fish and meat…that's all before sharpening it. 
In case you're wondering…
…this is only 3.4 tang, but it's surprisingly strong. As a matter of fact, we're also able to use it for a little batoning. The handle stayed strong and didn't rattle at all. 
And we're not into the sheath yet. 
The sheath is as solid as the blade, which impressed all of us. It felt like it wouldn't break easily. And it has a belt clip on its rear so you can also mount it on your belt. 
The thing is…
…the belt is a bit too snug. If you'll take it as a positive or a negative is up to you.  
It's so tight that I literally had to remove my belt just to take it off. For me, it's a positive because that means I won't lose the knife easily. But if you're all for convenience and speed, then you might find this a disadvantage.
Best Camping Knife For CookingWith Kydex Sheath
Off-Grid Knives – Camping Chef Knife
Blade Length – 6.13 inches
Blade Material – Stainless steel
Design – Fixed blade
Handle Type – Rubberized and ridged
Manufacturer – Off-Grid Knives
The Bottom Line:
A simply-crafted knife with a durable Japanese AUS8 steel that's wicked sharp right out of the box and very easy to sharpen with good edge retention, too.
Pros
A wide knife with a diamond tip that's perfect for cutting meat and fish

The Japanese AUS8 steel is easy to sharpen

Has very good edge retention

It can get wicked sharp

Resistant to corrosion

Easy to hold with lots of clearance for the fingers

Excellent pinch detailing on the handle

Good retention on the sheath

Sharp and thin edge

Lifetime replacement warranty
Cons
Doesn't have a belt loop

A bit heavier than most knives
Summary
If you're looking for a camping cooking knife with no extra unnecessary weight on it, then this uniquely designed Off-Grid camping chef knife may be the one for you. 
Why did I say that?
Well, it's not as lightweight as you must have imagined. The knife itself is quite beefy. But that's all necessary weight that's crucial for its performance. Now, after that, its other components, especially the sheath, are lightweight but still solid. 
How's that possible?
Let me start with the blade first, as it's what impressed me in the first place. 
The blade is real wicked. 
First off, it's made from Japanese AUS8 steel, which excels in durability and corrosion resistance. Just the two elements that make up a good cooking knife. 
It's coated in Titanium Nitride coating which doesn't only add better corrosion resistance but also gives the knife a muted classy look. 
This knife's design is influenced by the Japanese Bunka knife, which is a chef knife with a wide blade and triangle-shaped tip. Interesting, right?
That being said, we've tried it on many different meal preparations as it looked like it would stand up to heavy-duty use. 
True enough, it proved excellent in many kitchen tasks such as chopping, dicing, cutting, and even mincing garlic to a near-perfect paste!
In addition to that…
…I was also able to chop bones neatly, as long as they were not very rock-hard bones. 
The tip was also excellent at piercing. Suffice to say, we're able to use it as a multi-purpose kitchen knife around the camp. I didn't even need to get another knife. 
In case you're wondering, it came out of the package razor-sharp. And I mean dangerously sharp, so remember to be extra careful. 
Moreover, it is even sharper after going through a sharpener. Needless to say, I was able to make very clean cuts and slices. You can make see-through cuts with your fruits, veggies, and meat. 
As for edge retention?
All I can say is it's excellent. Three months on, and it's still as sharp as its first week. Take note that I even used it at home because of how multi-purpose it is. 
On the other hand, it's real sharp, but just to let you know, I wasn't able to make rocking motions with it to make chopping faster. But with expert hands, I believe the user can work around its design. 
The handle is a thick G10 material, designed for heavy-duty use. As I've said, it's a beefy knife. So if you're not used to holding thick knife handles, then you'd most probably need getting used to this bad boy. 
On the flip side…
…its overall design and texturing will really help. It's ridged with very fine ridges, so it won't ever slip your hands, even if it's wet. There's also a jimping on the spine, which made chopping hard vegetables much easier for me. 
It's just a shame that however good it is, it doesn't come with something to mount the knife with. It doesn't have a belt loop, as well. But it's a kitchen knife, after all, so that's just a very small inconvenience.
Best Water-Resistant Camping Knife For Cooking
CIVIVI Kepler Fixed Blade Knife
Blade Length – 4.48 inches
Blade Material – 9Cr18MoV Stainless Steel
Design – Fixed blade
Handle Type – G10 handle
Manufacturer – WE Knife Co., Ltd
The Bottom Line:
A small camping cooking knife that is water-resistant so you can bring it anywhere without any worries.
Pros
Water-resistant knife

Full-tang design 

Its sheath clip can be rotated for different mounts

Lightweight and compact

Corrosion-resistant

Very easy to sharpen

Solid Kydex sheath
Cons
A bit small for a kitchen knife

Not very comfortable for big hands
Summary
Alright, at first glance, you'd most probably think that it's not much of a cooking knife. 
But at camp, water resistance is a very important thing, especially if you're a regular outdoorsman and want your tools to last long. 
This is the reason why we've included the CIVIVI Kepler fixed knife among the best fixed blade camping knives for cooking. 
Its blade is over four inches long, which is not a lot. But I'd say you can still use it to gut and clean fish and meat, chop vegetables, and skin fruit effectively. 
Its blade material is stainless steel, which means it's not only water-resistant but also rust-proof as well. But you'd still do well to clean it regularly and dry it after every use. 
It's a thin blade. So it's great for slicing smoothly and cleanly without jagged edges. 
The point is not very long and sharp, so it doesn't excel in stabbing or piercing. But you'd be glad to know that as small as it is, it's a full tang knife.
That means that you can be confident that it will stand up to use and abuse, given that you know your knife's limitations. But needless to say, I was able to use it without any reservations or worries. 
I was even able to use it to make tinder at one time when it was all I had. 
Now, the thing is…
…it came a bit dull right out of the box, just to put it out there. But don't be discouraged right away because after sharpening it, it came out sharp enough to use for cooking. 
And because of its thin blade, it didn't take me too much time to get it razor-sharp, it was quick and easy. 
That being said, you'd also want to be careful because of its thinness.  It could break if used on very hard objects such as rock.
As for the handle…
…it's a nice G10 material, so I already expected it to be hard and solid. And it indeed didn't disappoint. 
It didn't break or crack when I accidentally dropped it down a shallow cliff on one of our outings. 
Moreover, it's lightweight, too, so you won't have any problem carrying it long distances. 
Another thing that made it a great and convenient camping cooking blade for me is its mounting clip. It has screws that you can remove so you can adjust the clip.
Thanks to this, I was able to mount it in different ways to fit a particular situation's needs. 
Oh, and it also has a nice little paracord attached through a paracord hole on the bottom of the handle. It's not much of use to me, but it's still nice if you just want to hang your knife.
Best Striking Design Camping Knife For Cooking
DFACKTO Interceptor 10 Inch Butcher Knife for Camping and Outdoor Kitchen
Blade Length – 10 inches
Blade Material – Carbon steel
Design – Full tang
Handle Type – Mil-Spec G10 fiber-resin handle
Manufacturer – DFACKTO, Inc.
The Bottom Line:
A heavy-duty full tang fixed blade knife that's so tough, it's ideal for rugged use. One of its highlights is its perfectly ergonomic handle and durable blade.
Pros
Its toughness is ideal for rugged and heavy-duty use

Ergonomic, and tactical handle for fail-proof grip

Dependable full tang blade

Perfectly fit thermoplastic sheath

Good edge retention

Superior corrosion resistance thanks to its acid stonewash

It's low maintenance and doesn't scratch easily
Cons
Its sheath doesn't have a loop or clip for mounting

The nooks and crannies on the sheath need more cleaning
Summary
How about a good EDC knife?
Oh, I mean Everyday Cooking knife. 
Kay, that's actually this knife's very tagline. It's made for full-on heavy-duty cooking, and it shows. 
At first glance, you could say that it's one aggressive-looking knife. It actually is. At 10 inches, it's also made to be full tang, so its solidness is already established. 
But aside from that…
…it's also made from carbon steel. In case you didn't know, carbon steel is the way to go if you're looking for a strong knife that won't leave you hanging in the middle of wildness. 
It's hard, it's durable, and it's dependable. 
Right out of the box, it was already sharp. It's so sharp that my camping buddy, who's also a veteran cook, cut his finger with the blade when he was testing it out!
But after sharpening it some more, that's when the real business began.
It was so sharp that we were able to make translucent slices of lemons and oranges for our drinks. I was also able to slice our ham very thinly so it would look decorative for the cheeseboard. 
But that's not all.
Those were only light tasks. I almost forgot that it's a butcher knife for camping until we needed to skin and clean our game one outing. 
It was all I needed to finish the job. It slid through meat and skin smoothly and easily, especially when it's newly sharpened. 
It's also what I used to chop the game into small pieces. Yes, including the bones.
That's the power of carbon steel for you. It can get as sharp as you want it to and it can stay that way for days thanks to its good edge resistance. 
Suffice to say…
…it's that heavy-duty that you won't need to worry about maintaining it so much on your long trips. 
Moreover, it's also corrosion-resistant. Thanks to its acid stonewash, it also doesn't scratch easily. 
And it doesn't hurt that it made the blade a classy black matte, too!
As for the handle, it's also a force to be reckoned with. At first look, it sure looks simple and plain. But in the eyes of kitchen collectors, it's a gem.
I mean, just look at the finger grooves. They're much deeper than most so I was able to hold it securely without slipping even once. 
Moreover, the fiber resin handle can withstand both the cold and the hot and doesn't break very easily. 
Just take note that the nooks and crannies on the handle (which aren't a few) could be a bit hard to clean, especially when bits and pieces of food get onto them. 
This boss of a butcher knife comes in a beautiful gift box that's ready to be given as a present, too!
Best Durable Blade Camping Knife For Cooking
MIKI Sharp 440A Stainless Steel Blade for Outdoor Camping Cooking
Blade Length – 5 inches
Blade Material – 440A stainless steel
Design – Folding knife
Handle Type – G10 handle
Manufacturer – MIKI
The Bottom Line:
A functional folding knife for your camp kitchen, it's made with the Japanese Nakiri-style that let's it perform like a big chef knife in the kitchen.
Pros
Compact foldable blade

Tough, non-slip, oil-resistant G10 handle

Liner lock keeps your fingers safe while using the knife

Comes with a pouch and cleaning cloth

Lightweight for travel
Cons
The handle is not very ergonomic

No belt clip
Summary
If you're looking for a good knife for your kitchen camp, a Japanese blade is the way to go. 
MIKI means beautiful in Japanese, and this folding knife just lived up to its name. 
It sure isn't the prettiest knife out there, but this 5-inch bladed knife worked like a real chef knife on our camp.
First off, it's a folding knife, so that's for you who are looking for more convenient designs for your camping knives. 
It has a straight and fine edge with a beautiful logo on the blade's surface. It's around five inches long (blade length and closed size) makes it just a tad bit bigger than the typical pocket knife. But man, the power it wields!
It's already sharp right out of the box, although not badass sharp, it can cut paper easily.
It's made from 440A stainless steel, which is a cheaper kind but definitely durable and tough. Because of this, I had no difficulty sharpening it up. It didn't even take me an hour. 
Once nicely sharpened, it can cut fruits and vegetables neatly. As for harder veggies and fruits, you might want to be more careful and focused. 
It can also cut through steak and meat neatly, but not through bones. 
There's a long hole on the blade for the finger so you can deploy or open it. It doesn't have much spring to it but it does have a liner lock so it locks in place after you open it. 
The liner lock was durable so it never failed on me while I was using it, not even when I was slicing tough meat. 
Aside from this…
…you'd also be delighted to know that it's a lightweight camp kitchen knife. The struggle of carrying a heavy camping knife in your apron pocket and having it dangling awkwardly and uncomfortably is not new to me. So this being lightweight was a huge plus for us. 
There's good texturing on the surface of the handle but there are no finger loops, which was quite a pity. But I haven't had any accidents with it so far, so I guess it's not much of a big deal. 
It came with a couple of pouches and a microfiber cloth for cleaning as a bonus, which is nice. I used the pouch as a sheath because I just can't have a bare knife inside my backpack even if it's foldable, so those are nice additions.
Best Ultra Sharpe Camping Knife For Cooking
SENBON 440A Stainless Steel For Camping
Blade Length – 4.8 inches
Blade Material – 440A stainless steel
Design – Folding knife
Handle Type – Natural olive wood handle
Manufacturer – SENBON
The Bottom Line:
A beautiful knife inside and out. This Nakiri-style blade by Senbon isn't only attractive to look at but very well-crafted, as well. It's also a compact foldable knife with a razor-sharp blade.
Pros
Portable folding knife for camp cooking

Elegant design

Easy to hold

It comes with an aesthetically pleasing pouch
Cons
No clip or loop for mounting

Not enough ergonomics on the handle
Summary
Clean and aesthetically pleasing, this Nakiri-style folding knife may look too beautiful to be on the campgrounds, but you'll be surprised at how hard it works. 
One of the best folding camping knives we've tried for this roundup. This foldable by Senbon is flawlessly crafted- meaning: we found almost no fault in the three Senbon folding knives that we've bought. 
This stunner came in already razor-sharp, no sharpening needed. I was able to produce translucent slices of tomatoes right off the bat. 
It has some weight to it which further indicates its good quality. 
In case you're wondering…
…it can work heavy-duty. I was able to use it for a whole month both in my home kitchen and our camp kitchen, and I only had to sharpen it once. 
Its handle is a beautiful olive wood, which further adds to its simple but classy look. I had some misgivings about wooden handles because if what you got is a bad quality wood handle, it will surely deteriorate and change its color later on. 
But three months on with regular washing and it's still its same pretty color.
On the other hand…
…there aren't enough ergonomics or curves on the handle for me. I mean, I was able to use it well, with no slipping at all. But if you're new to handling knives such as these, you may want to be extra careful. 
The blade has a liner lock, and thanks to its snug screws, it fits just right into its case. 
As if it's not enough, it also came with a beautiful pouch if you want to be more secure in storing it. 
At a little over ten inches, it's just right for both big and small hands. It's definitely bigger than we expected, so it was a pleasant surprise, as well!
Best Camping Knife For Cooking Along With Bottle Opener
German Stainless Steel Outdoor Camping Knife
Blade Length – 4.9 inches
Blade Material – 1.4116 German stainless steel
Design – Full tang, cleave style design knife
Handle Type – Rosewood
Manufacturer – TIVOLI
The Bottom Line:
A mini cleaver knife that fits just right on the hand. It has a curved handle for comfortable chopping and an integrated bottle opener along its spine.
Pros
Solid mini cleaver design

Easy to clean and maintain

Comes with an integrated bottle opener

The hole in the blade can be used to better grip the knife during use

Rust-resistant

Made for heavy-duty use

Tough full tang design

Curved handle for a comfortable grip during long term use

Comes with a sheath and a belt loop with lock
Cons
The sheath is a bit too soft for the sharpness of the blade

Not-so-perfect edge retention
Summary
If you're short on space and need to drop a few tools from your arsenal for your next camping trip, then you'd do well to get a camping knife with an integrated tool in it.
This attention catcher mini cleaver from TIVOLI is the next attraction in your camp kitchen with its unique design and functions. 
The best camping cooking knife with an integrated bottle opener, this durable knife is made from German steel, so we already know that it would be great for the kitchen.
But what I didn't know was how strong and low in maintenance this knife is.
As a matter of fact…
…it's rust-resistant, so I was able to take it out from the camp kitchen as well. 
It's already sharp right out of the box, but when sharpened more, it's one heck of a beast.
It sure isn't very big, but I was able to cut my meat and vegetables smoothly and cleanly with it. Not to mention, I can also do the rocking move thanks to this mini cleaver's curved blade. Needless to say, it wasn't only efficient to use but fast, as well. 
Moreover, there's a hole on the blade where you can put your finger in if you want more stress on chopping and to do it faster than usual.
As for the bottle opener… 
…it's placed along the spine of its sharp blade, and it's definitely as strong, too. Thanks to this, I was able to leave my bottle opener at home to give way for other tools that I wanted to bring in with me. 
On the other hand…
…its edge retention is not ideal. But to make up for it, I've also noticed that the blade is not that hard, so it was very quick and easy to sharpen. 
The handle is a beautiful Rosewood, and it's designed into a big curved so you can hold it comfortably, especially if you're using it for longer hours. 
I was a bit concerned about the wood material, but then, you'd just have to remember to keep it dry after every wash so that it doesn't deteriorate or change its color.
Best Camping Knife For Cooking With Magnesium Fire Starter
Extremus Camping Knife, Fixed Blade
Blade Length – 3.5 inches
Blade Material – 7CR17 stainless steel
Design – Fixed half tang blade
Handle Type – TPR molded handle
Manufacturer – Extremus
The Bottom Line:
Like many other knives, this one b Extremus also comes with a fire starting rod. But what makes this one a standout is the high quality and good performance of the rod, which can create big sparks for camping and cooking.
Pros
Ideal for emergency purposes

It has a fine leading edge and a serrated top edge

Comes with a magnesium fire starting tool

Also features a belt clip for mounting
Cons
You need to be careful with the serrated top edge and your finger when using the knife

The knife could be a bit hard to remove from the sheath
Summary
We've had our fair share of camping , knives with fire starters, but we all know that some of them are just extras. Most of the time, we still prefer to use our own rods because they still make a better flame.
But 'lo and behold…
…we've found a camping knife with such a solid fire starter that we've even used it for food prep!
And I'm talking about the Extremus Fixed Blade Knives. 
One of the smallest camping fixed blade knives that we've used for this list, this knife holds many surprises. 
Aside from the magnesium fire starter, its knife blade is also one of its unique attributes. 
It has a fine and straight edge as a leading edge. It came sharp right out of the box and was able to slice paper without ripping it. 
It's not wicked sharp but it's enough for fruits and vegetables. If you want a neat slice for your meat, you'd want to sharpen it first. 
At over three inches in length, it can hold a candle against other pocket knives. As a matter of fact, it's even considered by many knife aficionados to be a great dupe for Morakniv knives thanks to its solid design and engineering!
But aside from that…
…it has not one but two knife blades. Well, not two, maybe one and a half. Aside from the fine leading edge, it also has a serrated top edge just near the handle. 
This part is much thicker and definitely stronger. We're able to use it to saw small pieces of wood and even cut a rope. 
On the flip side, you may find the serrated top edge's placement a bit awkward. It's not close to the handle but if you're not used to holding a small knife or you're not focusing on your task, you could touch the serrated edge with your finger and cut it. 
Nevertheless…
…all of us at camp are already used to knives and none of us got injured or got affected by this feature. If anything, it made me feel like I was carrying two little knives on me instead of just one. 
Now, onto the magnesium fire starter. As previously mentioned, it's surprisingly much more solid and efficient than most fire starters that come with camping knives.
It gave us some good sparks and I didn't have to do it repeatedly as I did with other generic Ferro rods. 
The fire starter is stored in its own holder that's attached to the knife's sheath. 
In case you're wondering, you can also unscrew this fire starter holder and remove it!
And speaking of the sheath…
…it's very solid with a weight to it. The knife locks in when pushed hard into the sheath so removing it was a bit of a challenge. So if you're still a knife beginner, you'd do well to be careful in drawing the knife out. 
Thanks to these very convenient inclusions and features, we consider this Extremus knife to be not only a good camp kitchen knife but also an emergency knife.
Section 4: Buyers Guide: How To Choose The Best Camping Knives For Cooking…
Things to Consider Before Buying a Camping Cooking Knife
Not because it's a camping knife should mean that it's good as a kitchen knife. Whether you're in the wild or at home, you need a knife that's made especially for the tricky business that is cooking. Below are the most important things to look out for:
Material
A good camping kitchen knife should have a dependable material for both the blade and the handle. The blade material should be resistant to rust, as your knife will get wet more than you'd like.
On the other hand, the handle should also be tough as a nail and doesn't break easily. Weak and easy-to-corrode wood materials are not advisable.
Ergonomics
You'd want a knife that you can use without getting your hand sore, even for longer hours. Look for good ergonomics on the handle, as well as finger slots to keep your hand happy while cooking.
Sheath
You'll be going places with your knife, so it's important that it also has a tough sheath. Weak and thin sheaths or cases are not advisable. You don't want to have it breaking while inside your bag and piercing your things inside, don't you?
Section 5: FAQ: Frequently Asked Questions
Q – How thick should a camp knife be?
A – For camping knives, 3/16 of an inch is a good thickness. You don't want it to be thin and bendy as you'll be using it for wood and other hard objects.
Q – How sharp should a camp knife be?
A – A sharp knife is a must for survival knives or backpacking knives. An angle of 15 to 20 degrees is the best. You'd want it to be able to chop off anything without much effort.
Q – Are folding knives good for camping?
A – Folding camping knives could be very useful camp cooking knives or just for camping in general. They're compact and very lightweight. Just make sure that a folding knife has a good and sturdy locking mechanism to ensure your hand's safety while using it.
Round-Up
Section 6: Our Analysis, Comparisons & Test Results
Value for Money
You don't need to get an expensive knife to experience premium quality and performance, as evidenced by our top-notchers in this category, as most of these camping cooking knives come at agreeable prices but with excellent qualities.
Sharpness
This is quite obvious- sharpness is one of the most important qualities if you're looking for a knife for cooking outdoors. You're most likely not chopping wood here, but fruits and vegetables that also need to look presentable.
Durability Durability
What sets camping cooking knives from regular kitchen knives is their durability. It should be rugged enough to be brought out for cooking outdoors and through any elements and weather at that.
Edge Retention
You're not at home, so maintaining a sharp blade every so often could be such a hassle and inconvenience. That's why we also looked for knives with good edge retention. Meaning: they can keep their sharpness for an extended period of time.
Knife Grip
Aside from the knife blades, their handles are important, too. A good grip and texture will ensure that your knife stays in your hand and won't fly away or slip dangerously, even when it's wet.
Our Final Verdict: Best Camping Knives For Cooking
Coming soon!
Section 7: Conclusion: Best Camping Knives For Cooking
As you might have seen, choosing a knife that you will be using at your camp kitchen for food prep is quite crucial.
Unlike the regular camping knife, camping knives for cooking don't focus on hardness but on corrosion resistance and durability, among other things.
If you still can't decide…
…and budget isn't a factor for you, then we suggest the Editor's Choice, the Morakniv Companion fixed blade camping knife. Enough said- every camper knows about Morakniv knives and their famed quality that also comes at a great price to boot.
Now, if you're looking for a good entry-level knife with an agreeable price and high quality, the Best Value Buck Knives 104 is your best bet. We're totally blown away by its quality that's comparable to other pricey knives.
And it won't end there. A good knife is nothing if it's not well-taken care of, especially if it's for cooking at camp.
So aside from knowing what camping knife suits you best, it's also important to make sure that your knife is well-cleaned (and even oiled) at all times.