You shouldn't wait for the next summer season to be able to enjoy a well-grilled steak. Out with the charcoal grill and in with the electric!
Best Electric Camping Grills: Itching to grill a sumptuous slab of steak, but restrictions or the climate are keeping you from it?
The answer is an electric camping grill that you can use and bring anywhere, so long as there is an electrical outlet.
But buying one is an investment in itself. That's why we've made sure to narrow down our choices to only the best of the best.
In this ultimate best electric camping grills review, we'll be tackling:
The best camping grillers for every budget;
All of their pros and cons;
How they worked for us;
How to choose the best among the bunch;
Lots more!
After the roundup, we've also prepared a helpful buyer's guide for you first-timers, as well as ranking by the metrics!
So if you're ready to have the best grilling session of all seasons…
Let's light it up!
INTRODUCTION
Most people who buy electric grills are those who live in apartments with gas or charcoal grill restrictions.
But aside from that, it's actually more than that.
Having the best electric grill in your arsenal takes the complications of gas or charcoal grills out of the way, especially with unplanned or spontaneous trips.
Most electric grills today are designed for easy transportability. Some even have handles or briefcase-like designs, so you can carry them with one hand while you carry other bags with the other!
Aside from that…
…they're also easier to clean most of the time. All you'd need is your ever faithful grill brush or a soapy towel. What more if your griller is a non-stick one, which is common.
The other features are just bonuses, such as a spice rack, lid, or temperature gauge. But by itself, a well-made electric griller would save your day more than you can imagine.
And best of all?
You can grill inside your home or on your patio, even on winter days when you can't with gas or charcoal grills!
That being said…
…as always, we scoured the market to find the creams of the crop because, hey, we also want to know what's the best electric griller to get!
We've agreed on five metrics to rate each griller, and below is the verdict.
Best Electric Camping Grill
Best High Capacity Electric Camping Grill – Editor's Choice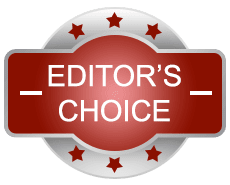 Electric BBQ Grill Techwood
Temperature Control – Knob with temperature levels
Cooking Timer – None
Power – 120V 60Hz 1600W
Included Storage – None
Manufacturer – Techwood

The Bottom Line:
No need for a charcoal grill with this Techwood electric grill. It's not smoke-free, but it can give the food a good smokey flavor. Not to mention its hood for faster heating and warming rack to maintain a good temperature for the food.
Pros
Very portable size and can fit on countertops

Its cooking surfaces lets you make at least 15 servings at a time

Easy to clean and rust-resistant

With porcelain coating

Features an interlocking hood that allows fast heating and cooking

Wide and easy-to-hold handles

Intuitive and easy-to-get controls

It also has a well-designed venting system that dissipates heat in no time

With 4 stable mountable base to secure the grill

Comes with a foldable warming rack to warm food without burning
Cons
No drip pan

You have to be careful with the stand as they're not too thick
Summary
A grill that can be used indoors and outdoors and can give you meals with a smokey flavor that tastes as if it came right out of the charcoal?
Honestly, I don't think it could get any better than this. 
For this reason, and its numerous other unique features, we've decided on this electric grill by Techwood as this review's Editor's Choice. 
Definitely one of the best electric grills of the ton, it came really well-packed and well-protected. It took us a while to open it up, but it was worth it, especially when we finally beheld the new and shining, rounded griller. 
Just take note:
Newbies might possibly have a challenging time assembling this guy up. For one, it came with packs of tiny accessories like screws. 
And speaking of screws, it's not a hands-free assembly. You'd need to prepare a Phili[p screw. 
As a seasoned camper, it took me no less than ten minutes to get this guy up, and if you're not very mechanical, it could take longer. But the good thing is, most screws came pre-installed already. 
Now, this thing has a weight on it! And understandably so, what with all the great features it carries on its four legs!
This electric griller has cast-iron grates that are coated with porcelain, so you can be sure that it's non-stick. The grates rest on its body which is somehow like a big bowl. Underneath it is a pan and the heating element coils. 
If you're wondering about the controls, it indeed has a very easy-to-use control knob, as well. And the cool thing is it has labels of different temperature levels to take the guesswork out of your fun grilling session. 
Its cord is about five feet long, which most people still find too short, but if you're getting this electric grill for your apartment, then I'd say it's just the perfect length. 
The temperature starts from 200 degrees Fahrenheit with a limit of 425 degrees Fahrenheit. But after using it a few times, I believe it heated up to just around 350. No big deal about that, though, because it heats real fast and real hot. 
As a matter of fact,…
…as if its quick heating isn't enough, it also has an interlocking hood so you can concentrate all the heat inside. Perfect if you're cooking a thick slab of meat!
This hood can lock and tends to go tight against the grill, especially when it's hot. I quite don't know why that is but just remember to have two free hands if you're going to lift the hood while cooking. 
As for the drip…
…this is where this great griller falls short. If not for the absence of a drip pan, it would be so perfect, especially as an apartment grill. 
Moreover, just underneath the grates are the heating elements. Needless to say, you may experience a few grease flare-ups, as it can spark a bit when dripped with oil or sauce. 
But that's not to say that you'd have to endure that forever. Most users of this portable grill put a foil lining underneath (or on the grates) to catch all the drippings and keep the bottom of the grill clean and grease-free. Also, to keep the heating elements safe. 
But then, you also still have to clean it. 
In case you're wondering, cleanup was not as easy as with most electric grills. This one requires the use of a tool once again.
I had to remove the wingnuts that attach the heating elements to the unit to be able to wash the grill properly. I tried to find other ways around it, but it's the easiest and only way, actually. So you'd need more patience to be able to wash this. 
So, for the verdict…
…were we able to cook tender and juicy grilled goods with this Techwood indoor grill?
A big, unbiased yes!
How so? 
I almost forgot to mention that it also has a rotating vent on the top of its dome hood. You can close the holes or open them up by turning them. 
The result?
A juicy steak with perfect grill marks and even a charcoal flavor to boot!
Wait, charcoal flavor?
Yes, indeed. No need for a gas or charcoal grill because we're actually able to achieve a smokey flavor by just keeping the hood shut and the vents open. 
What's cooler?
You can also bake or toast with this unit. I was actually able to make a thin crust pizza with it one time!
Moreover, unlike other electric grills, this one has a good heat distribution because the heating elements were placed well so that they cover the whole cooking surface of the grill. 
That means no cold spots anymore.
And when you're done cooking, you can still enjoy great warm food because it also comes with a warming rack that stands above the actual grill, so you can still warm your food on the grill but without burning it. 
Isn't it so clever?
As for the smoke, it's not smoke-free. But it produced very little smoke. Little enough not to set the fire alarm but I still suggest preparing good ventilation, especially when using it as an indoor grill. 
And after a long grill day…
…you can just shut it up and carry it because it's also made to be portable. It also has wide handles on the sides that can stay cool even if the grill is still hot.
Best Budget Electric Camping Grill – Best Value Award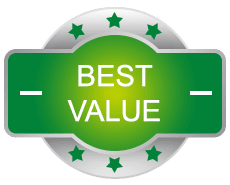 George Foreman GFO240S
Temperature Control – Temperature probe with five what settings
Cooking Timer – None
Power – 1, 440 watt/120 volt
Included Storage – None
Manufacturer – George Foreman
The Bottom Line:
Although not very easy when it comes to cleaning up, this George Foreman electric grill is your best bet if you're looking for a simple and easy-to-use outdoor grill.
Pros
Can make up to 15 servings at a time

Gives you the option of five heat settings

The coating is nonstick

Its own fat-removing slope removes at least 42% of fat from your food

Also features a drip tray

Its stand is removable so you can use it outside or on your countertop
Cons
The grilling plate doesn't come off

Not good with thicker pieces of meats/steaks

The stand is light
Summary
Looking to invest in a simpler grill that you can use on occasional trips or outdoor barbeque sessions?
Best of all, if you just want a little grill to fit in your flame-restricted apartment, George Foreman has something for you. 
Now, this GFO240S may not be as advanced or as impressive as other multi-functional electric grills on this list, but it sure wins when it comes to simplicity and ease of use. 
The package arrived much earlier than we expected, though the packaging itself wasn't very impressive. 
But as they say…
…it's the contents that are more important. 
After unpacking everything, assembly was very easy anyone could do it. 
I didn't need any tools except for attaching the handle of the pan. 
Despite its easy assembly, every component felt quite solid, so I was confident. 
The main material of this little guy is stainless steel. Now, this material has its good and bad, just like any other, but I like how it will certainly be corrosive- and rust-proof in the years to come. 
It has a domed lid and a pan, as well as a drip tray, and it sure looks good with the curved design at the very bottom. That actually made it look like a classy kitchen centerpiece!
The thing is…
…it's quite top-heavy. As a result, there could be instances of the griller shaking or even tipping if you're not careful. 
As for its controls, it's located on the handle. The temperature control has five heat settings, which is very agreeable to me. Simply said, the more settings there are, the more chances of customizing the heat for every kind of meal there is. 
Heat-up was fairly quick, which was a bit of a surprise because, after that, cooking felt a bit slower. 
Now, just so you know…
…after grilling on this unit a number of times, everyone on our squad concluded that it doesn't do that well with thick cuts of meat. 
So if you're planning to grill a thick slab of steak here, you could do well with another griller or just be patient in waiting for it to cook evenly. 
Also, even the highest heat setting wasn't hot enough to sear a steak or cook just its outside. What happened was the meat really cooked all the way through. 
That being said, if you're not going for a steak, this is a very good griller as it cooks very evenly. 
And how could we forget the grill marks! 
Suffice to say, our sausages and even veggies came out great and with tasty-looking marks on them. 
On the other hand…
I just had a bit of a problem with the lid and the grease. There were instances when grease wouldn't only drip but splatter everywhere. 
The drip tray was also just decently good at catching drip, but I still had to wipe some of them off my table. 
And speaking of the lid, this might not be that big of an issue, but just know that it doesn't have a lid holder. So make sure to prepare a cloth on the ground or a chair to give your lid a clean surface as you cook.
Additionally…
…this electric grill can be used both indoors and outdoors, so it comes with a stand. 
Like the others on this list, it also has a removable stand with four feet. It's made of plastic, so naturally, it felt a bit light and even shaky at times. 
I actually had to balance the content of my pan in fear of tipping it off. 
On the flip side, if you just don't want to risk with the stand (I as did), you can just easily remove the griller from the stand and put it on your counter or table outside. The stand is a bit short, especially for tall people anyway. 
Cleanup is more of a challenge than assembly. It's mainly because of the fact that the pan doesn't come off, so you'd have to put the whole unit in the sink if you want to clean it thoroughly. 
On the other hand, you can also just use soapy towels. 
Overall, I wouldn't call this the perfect griller for long trips or outings. But if you like to grill occasionally on your porch or grill at a camp once in a while, this is a convenient griller to have. 
Not to mention, it also bears the good quality that good old George Foreman is known for. 
Best Electric Camping Grill With Removable Stand – Top Pick Award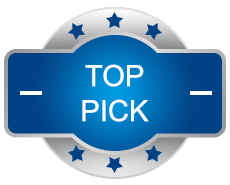 George Foreman Rectangular Electric Grill
Temperature Control – Variable temperature control
Cooking Timer – None
Power – 120 volts
Included Storage – None
Manufacturer – George Foreman
The Bottom Line:
Coming from the master of grillers, this George Foreman electric grill can be used indoors and outdoors as it comes with a stand. Moreover, it also has a domed lid with a big handle for ease of use, as well as a sloped surface for fat drainage.
Pros
Indoor outdoor electric grill

Made with non-stick coating

Its sloped grilling surface removes at least 42% fat from your food

Easy temperature control

Comes with a removable stand

Big cooking surface that can serve 12 people per batch

Solid pan means no flare ups with the heating elements
Cons
The stand is short

The grilling pan doesn't come off for washing
Summary
If it's your first time looking for electric grills, let me tell you that you're now looking at one of the most loved grill brands on the market, George Foreman. 
If you're looking for an electric grill that you can use in many ways other than camping and other than, well, grilling, this is one of the most versatile options today. 
As a matter of fact, we've chosen this George Foreman grill to be this review's Top Pick thanks to its cooking versatility that lets us do more things over a span of one month of tests!
Right out of the box…
…this electric grill was almost ready to use. You'd have to assemble a few things but none that would require you a big tool. For one, I had to attach the grill itself to the stand by sliding it in. 
I also installed the big handle myself using a screwdriver. Inside the lid, the screw sticks out a little bit and it affected my cleaning afterward but it's no big deal for me. 
Unlike the Editor's Choice…
…this one doesn't have grates. It's a solid pan with ridges for grill marks. 
One advantage of this design is oil and grease won't go through and drip down by the foot of the grill. 
Instead, the pan is slightly sloped so the fats could be drained as you cook.
The cool thing about it?
It's draining around 42% of fat from your food because of this design! Instead of soaking your meat up with oil, it will be automatically drained while the oil goes down to its trip tray underneath the unit. 
On the other hand…
…it's a great design and all. But as it turned out, the channels and the drip pan weren't enough because grease still splashed numerous times while we cooked. 
One of the reasons for this could be the pan itself. Because it's a solid pan, the excess oil would just collect on the surface until it splashes because of the heat.  
This is why we had to keep the lid closed most of the time, especially when we were cooking at a high temperature. 
Moreover, although this is advertised as an indoor outdoor electric grill, I wouldn't recommend it to be used indoors so much. It's still because of the grease that tends to trickle down the stand. 
I actually had to wipe my floors multiple times and make sure to have a cloth or a rug underneath to catch the grease. 
That's a bit inconvenient, but what about the good news?
Well, the good news is that it heats up very quickly. It usually took me five to six minutes to have a well-heated grill to sear my meat on. 
As for its cooking power…
…the highest setting is crazy hot. It's so hot that I even burned my fish the first time I tried this George Foreman grill. 
Good thing, there's a variable temperature control that is so easy to use even my granny can grill with this without any help. 
The control doesn't have exact temperature points, it only has numbers, but as mentioned, that makes it good for beginners and the elderly. 
Another favorite feature of mine…
…is its light indicator. It's not the typical on/off indicator. Rather, it lights up after you set your desired temperature and would go off when that temperature is achieved. 
Again, it takes all the complications and guesswork out of the equation. 
No wonder many elderly users love George Foreman so much. 
In case you're thinking, no, it doesn't give off a smokey flavor, unlike the Editor's Choice. I just used liquid smoke for that. 
On the positive side, it does give great grill marks that look like your meat just came out of a gas or charcoal grill!
While cooking, it didn't smoke at all, staying true to its advertisement. It did give a bit of steam, and when you cook in low heat with the lid on, your food could also taste like it's been boiled or steamed instead of grilled. 
And speaking of the lid…
…it tends to drip because of condensation when you lift it up while you're cooking. This may be one of the reasons why our food rarely came out of it looking or tasting grilled but instead had a boiled or baked feel to it. 
Again, it seems like it's one of the disadvantages of its solid pan.
On the other hand, this also means that you can do more dishes in it!
With the right recipe, we were able to make pan cookies, toast, vegetables, and many other dishes other than meat. 
That makes it really great if you're looking for a grill for your apartment only. 
As for its stand…
…it looked tall in the pictures, but it's actually quite short, maybe about the height of your stomach or hips if you're tall. 
Also, it could be a bit wobbly, even with all the attachments locked. You'd do well to rest it on an even surface. 
Or even better, you could just rest it on a table if you want to be sure. 
The lid has a big handle, which is also great I didn't have to worry about my hand touching the hot surface accidentally. I just wish they could have put an attachment to it or a small area where you can put the lid down. 
But best of all…
…it comes in this stunning red shade that will make you the envy of the whole campground!
Best Portable Electric Camping Grill
Cuisinart CEG-980 Outdoor Electric Grill with VersaStand
Temperature Control – Low, medium, and high heat
Cooking Timer – None
Power – 120 Volt/60Hz
Included Storage – None
Manufacturer – The Fulham Group
The Bottom Line:
A very easy-to-carry electric griller that you can fold into a briefcase complete with a carry handle. It also has a lid to keep the heat while you're grilling and telescopic legs that are integrated into the griller to make packing up much easier.
Pros
Great for both indoor and outdoor grilling

Easy-to-carry briefcase-style design

Sturdy and well-designed telescopic stand

Porcelain-coated grate

Powerful cooking

The lid has a latch so you won't have to worry about putting the lid down on the ground

Ready to be used with no assembly required
Cons
You may have to put an extra lining on the drip tray for it to catch all drips

Challenging to clean
Summary
If you're looking for portability above anything else in your camping grill, then this very well-designed electric outdoor cooking griller is your best bet. 
At first glance alone, we know it would be different from the other grillers we've tried. 
Made of alloy steel, this electric grill has some weight to it but not heavy enough to take the joy out of camping or even hiking. It's just enough to show that it's not flimsy but is actually solidly made. 
For one, it's designed to be like a briefcase so that it's very easy to carry, much like carrying a handbag. 
But unfurling it…
…you'd see that it has a hinged lid- something most grillers don't have. I just love how I won't have to worry anymore about where to put the grill's lid whenever I'm grilling outside!
Although I'd say the lid isn't as tight as I want it to be, it's still satisfying and still does its job. 
The cool thing is it has a stainless steel heat reflector that acts as another layer to the lid. What it does is it works as an insulator to trap the heat inside the griller and reflect the rising heat back to the surface of the food you're cooking inside the grill.
Although it sounds like a fairly simple system, it's actually not only practical but also energy efficient. This is because this cycle results in reduced cooking time. That also means less electricity is used. 
Additionally…
…take note that to start grilling on a good note, you must heat the unit up for around ten minutes first. Yep, like preheating an oven. 
In my case, I turned it to maximum heat for ten minutes, and the result was a perfectly consistent heat that's very comparable to a real grilling fire's heat!
As for its cooking power, let me just say that it's not perfect. 
It did have a few cold spots, and some areas of the meats and sausages turned out to be lighter than the other parts, which were toasted to perfection. 
What you want to do is keep the lid close because, as I've noticed, it tends to lose heat rather quickly whenever I open the lid. 
In case you're wondering, heating it up was no problem. It did heat up very fast, so I like that I didn't have to wait around. 
The control is a knob, as usual, with three heat levels. 
Aside from that…
…it also has a very nice telescopic stand which I have never seen before in other grillers. 
Yes, telescopic doesn't only mean that it's expandable, but it's actually integrated into the griller itself. 
All you have to do is extend the stand whenever you want to use it outdoors. The stand has three feet with bases, so it's actually very sturdy and solid and didn't move whatever the load my griller had!
If you decide to use this electric grill indoors, just collapse the stand or use it as some kind of a handle. 
In case you're wondering about the cleanup…
…as much as it's a very nicely designed griller, cleaning it up isn't as nice. 
You can wipe the pan with a soapy towel, but the container below the pan, the area where the heating elements are located, is where the challenge is at. 
This is due to the fact that the heating elements can't be detached, so I can't risk wetting them. The result? I had to carefully clean around these heating elements. 
On the other hand, if you'll look at the instructions, it says that there are wingnuts to be removed in order to clean the lower part of the griller. But there are really no wingnuts at all. 
Moreover, it also has a drip cup. But the thing is, it's way smaller than other grillers. That resulted in grease spilling down my floor when I grilled for an hour one time. 
Overall, this Cuisinart griller definitely has its flaws, but if you're all for portability and storage, then you'd definitely like this guy.
Best Quality Electric Camping Grill
Kenyon B70090 Frontier All Seasons Portable Stainless Steel Electric Grill
Temperature Control – Waterproof touch control panel
Cooking Timer – Automatic shut off in 60-90 minutes
Power – 120v
Included Storage – Fabric cover included
Manufacturer – Kenyon Custom
The Bottom Line:
When it comes to build and quality, only a few electric grills come close to this stunner from Kenyon. Made from stainless steel, it's rust-resistant and very durable. It also has a big drop pan that you can use to flavor your meals, as well as a touch control panel among other impressive features.
Pros
The hidden drip tray is very big

The tray can also be used for flavor-infused water or wine for added flavor to your dishes

Heats up to 550 degrees Fahrenheit in around ten minutes

Non-stick grate

Optional interchangeable griddle

IntelliKEN touch for precise temperature control

Good for both outdoor and indoor use

Rust-resistant stainless steel

Very easy to clean

Comes with a fabric cover for storage and protection
Cons
Bulky in cars

Pricier than most electric grills
Summary
This stainless steel behemoth looks almost as imposing as its great quality. And no wonder- because its maker initially started their business in the marine and aviation industry. 
So just imagine the same quality for your camping and kitchen equipment!
Did it disappoint or did it satisfy?
First of all, the price of this is no joke. But it immediately screamed class and quality. And we weren't wrong.
There's almost no assembly at all. After taking the unit out from its carefully wrapped packaging, all we had to do was check everything and then turn it on.
Its exterior is very minimalistic, being fully stainless steel except for the black touch control panel. I immediately thought it would look so good in our industrial kitchen. 
But as it turned out, it's more than just good looks. 
This unit is a simple rectangular piece with a hood on top, no other fluffs. The hood opens up to a grill pan that's easy to pop off for cleaning or for replacing with other pans. 
And by the way, it did come with a ridged grill pan and another pan that's flat. 
These pans are non-stick with double Teflon coats. 
On the other hand…
…I did feel the need to mention that the coating is made up of Teflon because we're also aware that not everyone is okay with using Teflon coating. So, just putting it out there. 
Nevertheless, the coating stayed good even after three months of regular use. But still, the fact that we always made sure to still use a bit of oil must also have helped in maintaining its coating. 
Remember- even if it's advertised as non-stick, drizzling a tiny bit of oil is also quite essential not only for the pan coating but also to give your meats a good char. 
And speaking of char…
…it did give my steak a nice char and even nicer grill marks that it literally looked like it came right from the top of a charcoal grill. No one would think that it's grilled on an electric grill. 
If there's any difference, it would be the fact that this grill is almost smokeless. There's barely any smoke that even the slightest gust of wind could easily clear the steam out. 
This is all thanks to the concealed heat elements. They're placed just below the grill pan and above the drip tray. 
Aside from being smokeless, this design also kept any flare ups at bay because there was also no chance for grease to drip onto the elements.
Now, here's the highlight of this unit. 
I mentioned the spacious drip pan earlier. But what I didn't mention is that you need to add water to it first. 
The instructions that came with it called for two cups of water. 
Now, you might think- won't that steam the food instead of grilling it?
Well, there's a purpose for the water on the drip tray. One of these is to prevent a flare-up and burning the food.. 
Note: Make sure to put in enough water because there's a possibility of burning the disposable drip pan if it's low on water. 
Sounds complicated?
Wait 'till you hear the cool benefit you can get from this!
Aside from the said purpose, you can also add your own flavor to the liquid on the drip pan to give a unique and gourmet taste to your food!
For example, you can simply put lemons in the water so that the aroma and taste can be infused with the meat. 
Or, for a more special twist, you can put wine in there instead. As for me, I tried putting on ale, and it turned out awesome!
And it doesn't end there.
The whole unit is perfectly insulated. What's better is the sides, and the bottom didn't get hot to the touch, not even while the meal was cooking inside!
Just wow. 
Starting it up was very easy anyone in the family could use it without any help needed. 
The control panel is touch-sensitive, and the temperature control is very accurate. You can grill in moderate heat, and it will be just right- a far cry from most grillers that only give very high or very low heat output. 
I needed to pre-heat it for up to seven minutes, though, but heating it up was quite fast, and the highest setting was perfect for searing your best steak. 
This guy is pretty powerful as it can heat up to 600 degrees Fahrenheit, something not all portable camp grills could do. 
And in case it's hard to believe…
…yes, it's indeed portable. It has a handle for carrying, too. Although this boss definitely has some weight to it, I really didn't mind because nothing comes close to the satisfaction of being able to whip up gourmet dishes even in the middle of the campground.
Its drip tray is made from aluminum foil, and if you're wondering, yes, it's disposable. Kenyon also sells pans for this, but some people found it pricier than expected. 
In that case, you can wash the tray up or find aluminum lasagna trays of the same size as the drip pan. But I'd recommend just getting the Kenyon one as they're more durable and long-lasting. 
The grill pans and the lid weren't difficult to remove at all, and they're also dishwasher-friendly, making this unit a breeze to clean. 
Moreover…
…this griller also has an amazing automatic shutoff in 60 to 90 minutes to ensure your family's safety.
Best Electric Camping Grill With Detachable Temperature Regulator
Giantex 1350W Electric BBQ Grill
Temperature Control – Variable temperature control knob
Cooking Timer – None
Power – 120V/60Hz
Included Storage – None
Manufacturer – Giantex
The Bottom Line:
A multipurpose electric grill with an impressive rotating seasoning rack to make grilling extra fun and convenient.
Pros
It comes with a detachable temperature regulator

Has an integrated condiment tray for easy access to the seasonings

Can be rotated up to 360 degrees

Non-stick coating

The griller surface is divided into three so you can cook more dishes at once

The grill's base has 5 feet so it's stable and sturdy

Features a grease-collecting bowl 

Easy manuals and assembly

Easy to clean and maintain

Durable
Cons
The non-stick coating tends to come off easily with the wrong tools

Small surface for grilling big chunks of meat
Summary
If you're looking for the best electric grills that will let you go all out on an outing, then this multi-purpose electric grill is your best bet!
Without further ado, the highlight of this two-way grill is its condiment tray!
Yes, indeed. Apart from the grill pan, it also has another pan underneath that has slots for your condiments! This tray is almost as wide as the griller itself and has one big slot for anything big that you want to have near you as you cook. 
Aside from that, it also has smaller rounded slots for barbeque sauce bottles, oils, and the like. 
Aside from the convenience of not having to walk away from your cooking dish just to fetch a seasoning, it can also be rotated up to full 360 degrees!
I didn't even have to take one step from where I stood while I was grilling because all I needed was within my reach. 
And it doesn't end there. 
This circular electric grill has a pan with not one but three sections so you can cook different kinds of meals all at once. 
The two sections are ridged, so you'll still have those delectable-looking grill marks. The other third of the pan is just a flat surface and this is for you who are always looking for a griller that would also let you make your morning pancakes.
Yes, I was able to make different meals at once, indeed. But it also resulted in lesser servings per batch because I had smaller areas for grilling. Nevertheless, it's still a unique and interesting feature to have that would surely come in handy. 
Assembly is not very hard. Especially if you're provided with clear and precise manuals like how Giantex did. 
Aside from the manual, they also have video instructions online so beginners wouldn't have any excuse not to get this right. 
Even the stand was very easy to attach. And take note, it's not the typical griller stand. It has five feet, which proved to be more than enough to give stability to the electric grill. 
As a result, it wasn't wobbly at all. In fact, it didn't even move an inch. Of course, you'd also have to make sure that it's standing on flat ground. 
In addition to that…
…if you tend to have short patience, worry no more, because this thing heats up mad fast. In fact, the average time it takes for it to get hot is just one minute or two for me. After that, it's really for a cook-off. 
It has a temperature control with numbers on the label. You can adjust it up to 4 levels of heat. 
In addition to that, it also features a temperature indicator that goes off when the desired temperature that you set is finally achieved. 
I like how I was able to bond with the kids while waiting and not having to worry and fuss around it in fear of overheating it. 
But of course, you'd do well to still be a responsible camper and mind your griller at all times. 
Like most electric grills, it also comes with a domed lid. What I like about it is its well-made handle. Aside from being heat-resistant, it's also long enough so that my hand doesn't come near the hot surface whenever I lift the lid off. 
Now, it doesn't give a great smokey flavor like charcoal grills. But you can always use liquid smoke. 
But if you're a fan of wood chips…
…unfortunately, there's no way to use wood chips with this as the pan is solid and not a grate. 
But still, it's a very small price to pay for something so useful. 
As for its pan, it's coated with a non-stick coating. I've heard about some users who complained of the coating flaking. As for mine, it still doesn't flake even after six months of regular use. 
So my guess is that it's quite sensitive to cooking tools such as sharp spatulas and you'd do well to use only wood or silicone variations and ones with thicker edges.,
And after a good outing…
…it's not perfectly easy to clean but it's not difficult, as well. You'd just have to clean the grill pan, the lid, and the grease tray and you're good. 
And speaking of the grease tray, it's also delightfully easier to take off than other grillers. It's because it's designed like a drawer that you'd just have to pull off to clean. 
Moreover, aside from having a good manual, Giantex also listed some helpful suggestions for the perfect grilling time for different kinds of meals.
Best Easy To Set Up Electric Camping Grill
Char-Broil TRU-Infrared Patio Bistro Electric Grill
Temperature Control – Three temperature settings
Cooking Timer – None
Power – 120 volts/1750 watts
Included Storage – None
Manufacturer – Char-Broil
The Bottom Line:
A posh-looking electric griller that's powered by electric TRU infrared system that grills your food in a unique way that retains its juices so that your food always comes out juicy and sumptuous. It also comes with wheels and a rack.
Pros
Large enough for a whole family

With TRU-infrared cooking system that cooks your food very evenly

The grilling grate is porcelain-coated and rust-resistant

Very easy to clean

Features a temperature gauge so you can monitor your grill's temperature

Cool touch handle

Also features a storage grate for your condiments and seasonings

Very stable stand that doesn't shake

The stand has wheels for easy transport
Cons
It takes some time to heat up

Cooks a bit slow
Summary
If simply grilling doesn't do it for you and you're looking for an electric griller that actually grills your food while keeping it juicy and moist, then Char-Boil's posh little electric camp griller is for you. 
Posh it indeed is, with its expensive-looking red exterior that will draw all eyes on the campground to your little griller. 
But that's not all.
It's also made with numerous features that make it a standout among other electric grillers today.
Without further ado, let's go to its infrared feature, which impressed me the most. 
It works with a TRU-infrared cooking system that limits hot airflow so your electric griller doesn't work like a convection oven. 
What about it?
Well, as I've also learned along the way, some electric grillers (or stoves) work with convective heat. As a result, your food doesn't only come out looking like its boiled or baked, but its moisture barrier is also destroyed. That results in very dry meat and steaks. 
So, did this infrared griller work?
Thankfully, it did. It definitely took its time cooking for sure, I was getting worried that my steak would end up dry. But in the end, it came out really juicy and near perfect. 
As for assembly…
It came very well-packed, with the little accessories wrapped individually. It also came with instructions, although it wasn't so simple especially if you're a beginner. Thankfully, the manual also had pictures!
How about the assembly? 
It took me 25 minutes and it would probably take you 30 to 45 minutes if you're not very mechanical. 
But the end result? It's a thing of beauty, really. 
Aside from its classy design, the features themselves add to its appeal. 
Perfect for outdoor cooking, it has a 4-legged stand. 
And not just that. 
But we knew right away that it's going to be really solid and sturdy because there's a wide rack that connects the four legs together so the griller isn't only held by the legs. 
Not to mention, I was able to use the wide rack later on for other grilling stuff such as a potholder, rag, or even plates. 
And it doesn't end there. Go one step up and you have yet another rack! This one is made for condiments and seasonings so they're within your reach but you can put anything in them, really. 
With a primary cooking space of 320 square inches, you can grill around 6 to 8 burger patties here so it's perfect for a moderately sized family. 
In case you're wondering…
…there were more times that my food was cooked slowly than the other way around. 
Indeed, the grill cooks slowly but is very juicy and efficient. 
But before that, you'd do well to preheat it first.  Because it tends to lose heat quickly when opening the lid up, what I do is preheat it to a temperature that's higher than my desired temperature. That's for five to ten minutes. 
And as mentioned above, one of the shortcomings of this beauty is it loses heat quickly whenever the lid is opened. So you should be ready with all your meats and veggies before opening it up and putting them inside. 
The good news is that it can effectively cook steaks when other grillers can't. I was actually able to grill a 1-inch steak to perfection without any problem. 
Another flaw that I've found is that it tends to get really hot on its rear side than its front. As a result, the grill is hotter there and cooler on the front side. 
Again…
…I looked at this shortcoming as something I can still work around. I used it to experiment with different kinds of food. I was able to sear on the hotter side and slow-cook on the less hot side!
Additionally, its cool-touch handle is also a nice touch. It really didn't get hot however sizzling the grill became. 
If you're wondering, some food came out with a nice charcoal flavor with them and some didn't. But the grill marks were constant. 
It also features a temperature gauge which, I noticed, worked inaccurately at times. But that's not much of a big deal for me as I always use my own thermometer anyway.
Section 3: Why Trust Us?
Okay, these products seem great, but why would you trust our judgment?
That's right. I wouldn't trust my bug out equipment that easily, too!
We are a big squad of camping and survival enthusiasts. Actually, some of us are just paranoid that a zombie apocalypse would find us unprepared in the future and we'd have to hide underground picking cockroaches or rats because we didn't stock up on good gear.
Okay, that's a bit far-fetched, but you get my point.
The thing is…
…we've been looking for the best of the best since our website's beginning. We started out by just recording our fortunes and misfortunes with our camp pillows, backpacks, and knives.
Then we thought, why not compile all our records?
In addition to that, we didn't only use the products but we also agreed on some metrics (or criteria) before testing them all out. This made our verdicts much fairer and easier for us and for the people who trust us.
Suffice to say, everything you see here are just our records on testing and finding the best bugout and survival gear and equipment for us to also use.
Section 5: FAQ: Frequently Asked Questions
Q – Can you use electric grills indoors?
A – Yes, you can. Just make sure that it doesn't generate smoke so as not to trigger fire alarms. There are a variety of electric grills that come with a stand for outdoor use that you can also remove for a nice countertop grilling.
Q – Are cooking times different with electric grills?
A – electric grillers are not the same, much so with their temperature controls. Some grillers, like the George Foreman GFO240S, have five or more heat settings, while some have only three. That also means that they have different cooking times.
Q – Is it easy to use an electric grill?
A – Using electric grills is way easier than using a gas grill. There's no fuel to collect and prepare. All you need to do is plug it up and turn it on.
Section 4: Our Analysis, Comparisons & Test Results
Value for Money
Value for money isn't all about how affordable a grill is. It refers to how much value it's able to give us in terms of its price. We're glad to say that most electric grillers that we've tested performed as expected of their price and some even went above and beyond!
Ease of Cleaning
A grill isn't a joke to clean, what with all its chars and build-ups. So it's important that an electric griller is easy to clean. After all, it's designed for portability and ease of use.
Portability
Now, speaking for portability, an electric camping griller should be easy to hold and even easier to carry and transport. You wouldn't want to be lugging around a heavy grill and take the fun away from your outing. That also applies to any emergency situations where camping grills are also useful.
Cooking Versatility
Yes, we're looking at grills here. But it's also nice to be able to cook diverse options of meals with it. After all, most of them aren't cheap. Fortunately, most of the electric camping grillers that we've used and tested can also cook different meals such as vegetables, dumplings, bread, and many more.
Safety
We already know it, an electric griller is much safer than gas or charcoal grills which are big fire hazards. But since we're dealing with electricity here, you'd also want to look at how safe a griller's design is. If it comes with a stand, it shouldn't be too flimsy that it will collapse with a light gust of wind.
Section 5: Conclusion: Best Electric Camping Grills
These best electric grills aren't just good for camping. They can also be a good backup griller when all else fails.
Most of all, a good electric griller lets everyone enjoy grilling, even teenagers and the elderly!
Now, if you're still asking….
…what's the overall best electric camping griller?
If budget is not an issue for you, we suggest you get the Editor's Choice Electric BBQ Grill Techwood.
It's straightforward, can be used indoors and outdoors, and we also enjoyed the cooling rack it came with!
But working around a budget is also possible. That's why we also got the Best Value George Foreman GFO240S. Need I say more? I mean, it's George Foreman, one of the most trusted names when it comes to grills!
On our search for the best grills for camping or outings, we're glad to see that the options are very diverse. There's certainly a design for everyone. That being said, all you have to do now is decide what fits your needs and preference!