One of these durable, portable, and versatile pots and pans is the right camping cookware!
So, you need a car cookware set?
Even if you think you don't… You probably do and you'll have a whole lot more fun to boot!
You can't miss out on the fun of cooking your meals out of your comfort zone and away from your kitchen at home! But it's only fun if you find the best of the best camping cookware sets to bring along on your adventures.
Since it's a long and expensive process to try all the cookware available out there – we did it for you! And we wrote this article to give you:
The best camping mess kits we could find on the market;
Their specs, pros, cons, and other features;
What's most affordable, durable, easy to clean, and portable;
Other tips on choosing and caring for a cook pot for campfire cooking; and
So much more!
One of these has a small pot, large pot, fry pan, and seventeen others in the set! Yet it's still compact and portable. If that's what you're after, keep reading to find out where to get it.
Fire up the stove!
Let's see what cooking…
INTRODUCTION
The great outdoors is fun yet exhausting. You can be the most adventurous person in the world. But you have to sit down, take a sip from a cool drink, and eat at some point.
And what's better than bringing pre-cooked meals when you go RV camping? Campfire cooking!
That's why…
You need outdoor cookware that you can easily pack up and carry around. There are many choices out there – Dutch ovens, pot set, hot pan, frying pan, etc. So, you have to have standards.
We tested the most popular cookware we could get our hands-on. And we noted how sturdy they were – how well they endured the rugged situations of cooking outdoors. Of course, after that, we observed how easy it was to clean them.
Overall…
We wanted to see how much convenience and comfort they add to an inconvenient and uncomfortable environment. It doesn't hurt if they're affordable too.
And these are the results…
SECTION 2: Best Car Camping Cookware
Best Durable Car Camping Cookware – Editor's Choice Award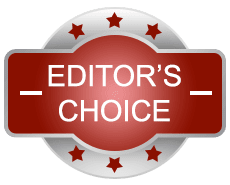 Lodge Cast Iron Camp Dutch Oven, 4-Quart
Capacity and Packability
90
Weight – 11.7 lbs
Material – Cast iron
Capacity – 4 Quartz
Size – 10-inch diameter; 3.5 inches deep
Manufacturer – Lodge Manufacturing Company
The Bottom Line:
Nothing beats an affordable and versatile camping stove that can last you ages – like Lodge Camp Dutch Oven!
Pros
Affordable

Includes a Camp Dutch Oven 101 Cookbook

You can use the lid as a griddle

Even heat distribution

Different cooking styles

Durable build

Easy to clean
Cons
Smaller than the standard cookware size

Heavy for its size

You need to season it before using
Summary
After months of testing, we've concluded that nothing beats a Lodge cast iron pot! In fact, we're naming it our Editor's Choice! And we have lots of reasons for that.
First of all…
Its durability exceeds that of others. It even exceeded our expectations based on its affordable price. 
When the Lodge camp cookware came, we immediately inspected its overall build. The material is high-quality – you can tell just by looking at it. But, of course, we didn't judge it by the looks.
After all the pre-cooking measures you have to do for cast iron pots, we took it camping and cooked our meals. We expected some damage after all the frying, searing, sauteing, and broiling – yes, you can do all those and more with Lodge. But all we saw were scratches!
But…
That's only because we forgot to season it before using it. We did the hot water treatment and whatnot. But we relied on the claim that it was already seasoned with vegetable oil. True enough, but for good measure, you can add another layer.
Anyway, most of the enamel coating was intact. And even after several uses, this Lodge camp stove is still as good as new.
And when it comes to cooking…
The styles we mentioned before aren't complete. Because apparently, you can bake using this camp cookware too! 
We had our doubts at first – and baked goods aren't the most popular camp food – but we gave it a try at home. And we can say that Lodge works just like an oven!
How is that?
Thanks to its build and material, there's an even distribution of heat all over this Lodge camp cookware. All you need to do is fire up the coals under it, and its integral legs will hold the stove up for you.
If you need to cook on low heat, there's a handle that you can use to hang the stove on a tripod, so it's not directly on top of the coals. Also, the pot lid poses as a flat griddle too! That's how we could do a lot of cooking styles with Lodge.
Not to mention, we had a great time exploring the recipes we found in the cookbook that comes with it!
On top of that…
Lodge Camp Dutch Oven is very portable and packable. Other campers, especially those who go in large groups, might think it's too small. It's not of standard size, after all. And others think it could be lighter for its small size.
But in our experience, this stove is great for light camping. You can easily haul it into your van, cook, and wipe it clean – not with soap, as you should know you must never do with cast iron.
So, we bet the Lodge Camp Dutch Oven can give your camping trips a new twist!
Best Value For Money – Best Value Award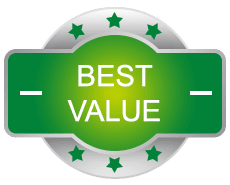 Lodge Pre-Seasoned Cast Iron Reversible Grill/Griddle With Handles
Capacity and Packability
90
Weight – 13.5 lbs
Material – Cast Iron
Capacity – 20 x 10.5-inch cooking space
Size – 20 x 10.5 x 0.81 inches
Manufacturer – Lodge Logic
The Bottom Line:
The Lodge Reversible Grill/Griddle proves that affordability and durability can go together!
Pros
Very affordable

Reversible – one side is a grill and the other is a griddle

Large cooking area

Different cooking styles and oven-safe

Durable build

Even heat distribution

Easy to clean
Cons
Big and heavy

The enamel coat easily chips off

You need to season it before cooking
Summary
Lodge has one of the most affordable camping cookware sets we've seen. And they're of the best quality too. And this reversible cast iron pan impressed us with its many advantages!
There's no doubt it's our Best Value!
It may take up too much space and it's a bit heavy. So we wouldn't recommend this as a backpacking cookware. But if you have a camping van or any other vehicle that you use to go camping, this wouldn't be a problem for you.
Besides, you'll be able to enjoy a large cooking space! However you want to cook your food, Lodge is your guy. On the one side, you can grill them. On the other side, you can fry, stir-fry, or saute them. 
You can't boil water or bake in it, but we tried it as an oven tray at home and it worked. We even used it to make pancakes and they were great! The heat evens out on the frying pan without having to move it around.
Plus…
Its durability is way beyond what you'll expect from a camp cookware of the same price point. Sure, there were scratches after all the cooking we did. But we think we could've avoided that if we seasoned it with a second layer.
The enamel also came off after several uses even though we did all the precautions. But besides that, we have no other complaints.
We took theis Lodge cookware set to a few more camping trips but it hasn't worn out.
And the cherry-on-top…
It's not at all complicated! From pre-cooking measures to the cooking process itself, and then to cleaning – Lodge Reversible Grill/Griddle is so easy to use.
Best Easy to Clean Car Camping Cookware – Top Pick Award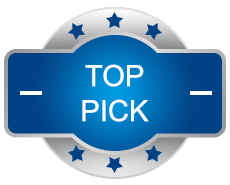 Lodge L14SK3 15-Inch Pre-Seasoned Cast-Iron Skillet
Capacity and Packability
80
Weight – 12.56 lbs
Material – Cast iron
Capacity – 15-inch diameter cooking space
Size – 22.2 x 15 x 2.9 inches
Manufacturer – LODGE
The Bottom Line:
Straight out of the box – the Lodge 15-inch Skillet is ready to use!
Pros
Affordable

Different cooking styles and oven-safe

Pre-seasoned and ready to use

Durable build

Easy to use and clean
Cons
Big and heavy

The enamel finish easily scratches off

The heat takes more time to even out
Summary
Your camping cookware kit shouldn't make your camping trip more complicated. So we recommend the easiest to use frying pan we found for camping. It's none other than our Top Pick – Lodge 15-inch Skillet! 
It may be true that it's too big and heavy for a backpacking cookware.
Still…
It has lots of qualities that make it one of the best frying pans out there. Well, it's deeper so we prefer to call it a skillet, which means that you can do more than frying! 
Go ahead and fry, saute, broil, or stir-fry your food. You can also boil water for cooking. And it's oven-safe so if you have an oven big enough for a 15-inch skillet, nothing's stopping you!
Only…
This skillet takes time before the heat is distributed evenly. But that only happened when we used it with coals and kindling. When we brought our camp stove with us, we had a better experience.
Also, after a few uses, we realized that the nonstick coating scratches off. We didn't forget to wash it with hot water and it's well-seasoned. So we concluded that it's not well-coated.
But as for its overall build…
There's no doubt about its durability. Its sturdy material survived lots of heat from cooking and bumps along the road to our camp sites. Aside from the enamel, the skillet is still good as new even after several uses!
You won't believe how affordable it is!
And the best thing…
… the thing that made it our Top Pick is its ready-to-use feature. The manufacturer didn't hold out  on seasoning it at the foundry and it shows!
As soon as we took it out of the box, we did the precautionary hot water treatment because it's enamel-coated. And that's it! We cooked and cleaned it with warm water – no soap – and the grease quickly went off. Easy-breezy…
Best Compact Car Camping Cookware
GSI Outdoors, Bugaboo Base Camper, Nesting Cook Set, Superior
Capacity and Packability
100
Weight – 3.23 lbs
Material – Hard anodized aluminum
Capacity – 2 liter
Size – 10 x 10 x 6 inches
Manufacturer – 
The Bottom Line:
Nothing beats the portability of camping cookware sets that you can haul together in a single sack!
Pros
It includes two pots, one frying pan, one cutting board, one foldable pot gripper, one nylon strainer lid for each pot, and a stuff sack.

The sack doubles as a sink

The two pots and frying pan are durable

Compact and lightweight

Even heat distribution

Great non-stick feature

Different cooking styles
Cons
Expensive

The Teflon finish easily scratches off

The extra tools are less durable

Hard to clean
Summary
The Bugaboo Base Camper is unlike other cook sets that you can find on the market. The items in this package aren't unique, but their quality sets them apart.
Prepare your pockets for this one. But we assure you that you won't waste a single penny.
Because…
Bugaboo Base Camper has two pots with strainer pot lids and a frying pan. They're made of hard-anodized aluminum, which is durable and sturdy. They won't wear out even after several uses, except for the Teflon coating.
It's an effective non–stick coating, for sure. But we hoped it would have lasted longer. Especially because after the Teflon was scratched off. But that's about the only complaint we have.
Aside from the pots…
Bugaboo Base Camper also has a chopping board, foldable pot gripper, and stuff sack! These add-ons aren't as durable as the aluminum cookware, but they're still useful at camp.
The pot gripper will allow you to safely take the pots out of the fire without needing potholders. And the stuff sack is one of our favorite items in this cookware set!
Why is that?
Nesting all the items inside the sack makes this lightweight camp cookware even more compact. You can arrange them so that they won't damage each other and take up as little space in the van as possible.
However, the bases of the pots tend to scratch the Teflon coating off. But you can avoid that by careful handling.
And the best thing…
The stuff sack is also a sink! It's big enough to keep the whole set in, so you can be sure it's big enough to wash them in. You can also use it as a basin to clean your food before cooking them.
As for its cooking performance…
From boiling water to frying, sauteing, and any other ways to cook – this set will allow you to do those! We hoped to find a grill, but we're not spoiled brats. We're more than content with what this set has.
Anyway, the heat evens out around those pots whether we use them with coals or stoves. You will surely enjoy camping with the Bugaboo Base Camper!
Best Multi-Use Car Camping Cookware
Stanley Base Camp Cook Set for 4 | 21 Pcs Nesting Cookware Made from Stainless Steel
Capacity and Packability
100
Weight – 1.10 lbs
Material – Stainless steel
Capacity – 3.5 liters
Size – 11.06 x 10.9 x 6.1 inches
Manufacturer – Stanley
The Bottom Line:
Just imagine the number of things you can do with a 20-piece camping cookware set!
Pros
It's 20-piece camping cookware set

Durable overall build

Compact and lightweight

Each tool is easy to use

Even heat distribution
Cons
Expensive

Hard to clean

Some tools are less durable
Summary
Aside from the pots and pans, what else should you bring to the campsite? Surely you'll need eating and cooking utensils too, right?
So…
Why buy them separately when you can get the Stanley Base Camp camping cookware set? It has 20 items in the package. You heard that right – it's 20!
Even though it's more expensive than most camping cookware sets, we still think it's a steal.
First…
You'll find a 3.5-liter durable, stainless steel pot with a vented lid. Then there's a 3-ply frying pan, also of stainless steel construction. Overall, those are sturdy and long-lasting. 
They don't have a nonstick coating, so they're a bit hard to clean. But if something sticks, you can use a steel wool cleaner on a stainless steel pot.
Also…
This camping cookware set has a cutting board and spatula. And after food prep, you can enjoy your meal with Stanley Base Camp's plastic eating utensils – a serving spoon, four sets of six-inch plates, 22-oz bowls, and sporks.
It also has a heat-resistant trivet, dish drying rack, and locking bungee. From preparing your food to cleaning up, Base Camp has you covered!
And even with all that haul…
You can nest all the Stanly Base Camp items inside the pot for perfect portability. And it's surprisingly lightweight for the size and the number of tools included.
Overall…
Each item performs its purpose so well. The stainless steel pots retain heat and distribute it evenly. And there's no need for pre-cooking measures like for those of cast iron. It's as easy as cooking at home!
They're durable enough. This camping cookware set will last years if you don't let the plastic items near the burning hot pots.
Section 3: Why Trust Us?
In all our years of camping and outdoor adventures, we've gone from bringing pre-cooked meals to instant meals. And now that we've experienced real cooking on a campfire, we can't go back!
But…
We've experienced best to worst, so we dare say we know what we're talking about here. Also, having good food at camp can make all the difference!
So we set out to find the most durable, versatile, portable, and convenient to use outdoor cookware. We were surprised that there aren't a lot of them compared to other camping equipment.
Still…
We were as vigilant as could be, noting every detail and inspecting every tool's nook and cranny.
Weighing them, sizing them up, and hauling them into our vehicles let us judge their packability. We had to cook in them at camp – even boil water and make noodles to try the strainer lid. And of course, we also had to clean them.
It was all fun and adventurous!
But the best part…
… is writing this article up so we can help you find the best cookware for you! And besides those, you must keep reading for other tips on making the best choice…
Section 4: Buyers Guide: How To Choose The Best Camping Cookware…
What are the different types of Car Camping Cookware?
Pot – the most versatile type of cookware because of its deep and wide cooking area.
Pan – flat bottom with raised sides best for frying, and sauteing.
Skillet – slightly deeper than a pan but more shallow than a pot.
Grill – an open rack, grate, or ridged cooking surface for applying heat directly to the surface of the food.
Features to look out for:
Manufacturers are now seasoning their cast iron cookware with vegetable oil.
Sets that have more than five items should be designed to easily nest together for easy transport.
A pot set is completed by removable handles or a pot gripper so there's no need to bring more heat-resistant tools.
Camping cookware and specifications explained:
Camping cookware are kitchen and cooking equipment and tools that are built for portability.
Weight – this is a factor of portability and an indicator of durability.
Material – this is the biggest factor affecting durability and cooking performance.
Capacity – campers should know how much their cooking equipment can cook for them at a time.
Size – this is also a factor of portability and indicator of capacity.
These are things to consider:
Teflon is a longer-lasting nonstick coating than enamel. But enamel is more health-friendly.
Hard anodized aluminum pots are lightweight but less durable, while cast iron is sturdier but heavier.
Stainless steel pots are less durable but they're also the least prone to rust. And they're lightweight too.
Jargon buster:
Griddle – a pan with a flat cooking surface most commonly used for frying burgers and eggs, or making pancakes.
Car Camping Cookware Top Tips:
You should wash cast iron cookware with hot water first before its first use.
Don't wash cast iron with soap! Instead, rinse it with hot water and wipe it dry to keep the enamel coating on.
Don't use metal utensils when cooking on enamel, teflon, or nonstick-coated cookware.
Section 5: FAQ: Frequently Asked Questions
Q – Do I need pots and pans with detachable handles?
A – The advantage of detachable handles is that you can remove them while cooking so they don't heat up along with the pots and pans. Instead of bringing pot lid lifters or pot holders, detachable handles are enough to keep you safe from burns.
Q – Is enamel camping cookware safe?
A – Yes. Enamel is a form of glass so it's generally non-toxic. And it's also great for withstanding high temperatures. And enamel non-stick coating is even safer than Teflon coating.
Q – Is aluminum camping cookware safe?
A – Treated aluminum – like hard anodized aluminum – cookware have no known health threats.
Round-Up
Knowing their overall scores and our detailed experience with them have their advantages. But there's wisdom in looking at the metric scores – especially when the sets are ranked from highest to lowest score.
In the next section…
You'll find which sets excelled over the others in each metric. You can use this as another basis for making your choice!
Section 6: Our Analysis, Comparisons & Test Results
Value for Money
The price range for camping cook sets is wide. But you can't be certain that the expensive ones are the best ones too. So, we based our expectations on those prices, and we judged the cook sets based on whether they met or exceeded them.
In the end…
The more affordable ones have the highest scores in this metric! Our award winners – Editor's Choice Camp Dutch Oven, Best Value Reversible Grill/Griddle, and Top Pick 15-inch Skillet – are just as durable and versatile as the expensive ones.
They're all from Lodge, by the way.
However…
We also considered that the expensive sets have about five or more items in them. The Stanley Base Camp and Bugaboo Base Camper are quite the steal too!
Ease of Cleaning
The Ease of Cleaning metric doesn't have a lot of factors. After all, these aren't stoves. These are cookware – pots and pans that you put on a stove. But the trickier part is cleaning up.
And…
The Lodge cast iron products – again, our award winners – don't need a lot of ritual just to clean it. Unlike stainless steel and hard anodized aluminum, you don't need soap to wash them.
Stainless steel, on the other hand, needs scraping most of the time. It doesn't have the non-stick coating that the others have.
Durability
The pots and pans in this list are some of the most durable products we found on the market. We took into account many factors before we could say that!
The material should be of high quality. We shouldn't see it scrape off during the first few uses if it's coated. And after use, we inspected them for scratches.
We found out…
… that cast iron lives up to its reputation! The Lodge products proved to be sturdy.
But of all the hard-anodized aluminum and stainless steel products, Bugaboo Base Camper and Stanley Base Camp are the best ones. We just took a few points off because of the additional items included in the set.
Cooking Performance
The biggest factors affecting the Cooking Performance metric are heat distribution and retention. If the heat evens out across the pot quickly, it's a good sign.
It's also worth noting how versatile the cookware is. In other words, you must be able to use it for different cooking styles.
And after all the field testing…
We concluded that these are the five most versatile sets we found. And it was almost as if we were using the usual kitchen cookware we're used to.
Not only because the Bugaboo Base Camper and Stanley Base Camp have lots of items in their sets. But also because the pots have lots of uses. We were able to cook a variety of meals with them and we could even bake using the Lodge products.
Capacity and Packability
The Bugaboo Base Camper and Stanley Base Camp are two of the best camping cookware sets in terms of packability. It's like having a whole camp kitchen in one nested, compact, and lightweight package.
For this metric…
We considered the size, weight, and how easy it is to store or pack up the cookware set. It's an important metric because camping equipment should make camp life easier, not the other way around.
Our Final Verdict: Best Camping Cookware
After all the field testing…
We finally have the best camping cookware sets on the market!
Our Editor's Choice Lodge Camp Dutch Oven won't disappoint you with its durability and versatility. Our Best Value Lodge Reversible Grill/Griddle is also sturdy and long-lasting. So is our Top Pick Lodge 15-inch Skillet, which is the easiest to clean and store!
Those award winners are three of the most affordable camping gear.
But don't forget…
Even though Bugaboo Base Camper and Stanley Base Camp are more expensive, they have a lot to offer! Their lightweight build and compact size make RV camping feel like home.
Section 7: Conclusion: Best Camping Cookware
There are so many reasons to choose one of the Lodge cookware. They're our award winners, after all. You can be sure about their durability and convenience, especially the cleaning part.
They're even some of the most affordable products we found!
But if you're looking for portability…
Bugaboo Base Camper and Stanley Base Camp are your best choices. They're lightweight, and you can nest them together as if there isn't a whole kitchen inside those sets!
Whatever you choose to do, we can assure you that it'll level up your next adventures. That's why we can't keep you any longer…
The great outdoors awaits you!