Looking for the best camping tent? These comfortable and durable tents are right here waiting for you!
Whether you're trying to find a family tent or simply your own tent for a solitary camping escapade, you don't have to lower your standards. Not even when you're on a budget.
Why?
… because you can simply go through this article and you'll find the best car camping tents and backpacking tents on the market! And more than that, we'll also give you:
Their specs, pros, cons, and special features;
Which ones are best for winter, summer, or any weather;
Which ones are most affordable, durable, compact, or easy to assemble;
Their metric scores and how we decided on them; and
Lots more!
Did you know that mesh roofs, windows, and rooms are a thing now? Find out which of these tents have those modern designs!
Bon voyage…
INTRODUCTION
The outdoor industry is ever-changing. Innovation comes quickly, and it can be hard to keep up. But there are timeless qualities that we look for in choosing our outdoor gear and equipment.
The same goes for our tents.
As campers, we want to be as comfortable as possible in our home away from home. That means, whatever the weather, we need our tent to protect us. And how can it protect us if the tent walls and floors are flimsy or easily damaged?
Another important thing is portability. A roomy interior is great, but a compact tent can be useful. And as much as possible, we want to stick to our budget.
With those in mind…
As a team, we tried out the best tents on the market and gathered our experience and observations in one easy-to-read report.
Scroll down to see the results!
Best Camping Tents
Best Easy Setup Camping Tent- Editor's Choice Award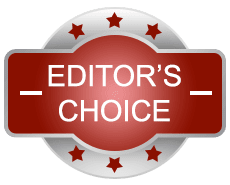 Coleman 8-Person Tent for Camping
Size – 27.5 x 9.25 x 9 inches
Accommodation – 8-Person
Material – Polyester
Weight – 24.5 lbs
Manufacturer – Coleman
The Bottom Line:
Camp out under any weather with our affordable, spacious, and easy to set up Coleman 8-person tent!
Pros
Affordable

Compact but spacious when set up

Welded floors

It has water-proofing features

Easy setup, collapse, and transport

Durable material

Includes additional convenience features
Cons
The rain fly is not that effective

The seams need sealing

The stakes can feel flimsy
Summary
Budget camping tents don't usually come with a spacious interior. But this Coleman certainly does! And what's even better is that it also has plenty of great features that you won't find in other tents.
First – the waterproofing features.
Coleman has a door awning and a rainfly. These give a dry space for you to pause before you enter through the tent door. And it also has angled windows that you can open for better air circulation, but without the threat of rain coming in.
Plus, this Coleman has a welded tent floor with inverted seams. But while we were out on our testing trip, we were caught in a heavy downpour. And we found water coming through those seams! So it's best if you seal them first.
Second – the convenience features.
You'll find enough space for about two queen-size water or air beds when you come into the tent. And you'll still have room for your gear!
You can keep your smaller gear in pockets all over the tent perimeter. And there's a "port" where you can sneak electric wires in if you need a power source in your tent.
And the best part…
… is how easy you can set this Coleman baby up! Its pin-and-ring system is beginner-friendly. And the package includes stakes for stabilizing the tent. 
Although, we'd recommend you buy better ones separately because those stakes aren't as durable as the rest of the tent, sadly.
Once you're ready to go home…
Coleman is as easy to collapse, roll, and store as it was to set up. You can fold or roll it into a compact carry bag. And you'll find this product lightweight for its size.
So, we're delighted to say that Coleman was our Editor's Choice camping tent with all those features!
Best Budget Camping Tent – Best Value Award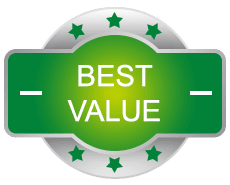 Size – 27.25 x 8.6 x 8.5 inches
Accommodation – 6-Person
Material – Polyester
Weight – 7.96 lbs
Manufacturer – Coleman
The Bottom Line:
You can't go wrong with a high-quality budget tent, like Coleman Sundome!
Pros
Very affordable

Compact and lightweight

Its rainfly also serves as awning

Durable material

Easy to set up, collapse, and transport

Includes a "port," window, floor vent, and screen roof
Cons
The zippers, footprint, and stakes can seem flimsy

Leaky seams on occasions especially if you don't waterproof it first
Summary
Coleman's Sundome is one of the best tents for camping we've seen. When you see how cheap it is, you'll know exactly why it's our Best Value awardee!
First of all…
You won't usually find a 6-person camping tent at this price point. And if you do, they're not very durable, as a rule. But Coleman Sundome is one of the few budget tents that exceeded our expectations!
It's made of durable and puncture-resistant polyester. If you're going to set it up somewhere with possible abrasives (rocks/ stones), you can add extra protection using the footprint that comes with the package.
However…
Beware – the add-ons aren't as durable as the tent itself. You might find a tarp better than the footprint especially when it rains. And we also suggest that you buy stabilizing stakes separately because it seems that Coleman doesn't really pay much attention to the freebies.
That's why we recommend the Sundome for fair weather camping.
And did we mention the zippers? They need careful zipping. But it's not that big of an inconvenience.
Especially because…
You're going to love Sundome's enhanced ventilation and weather protection features!
It has a screen window and ventilated floors for better air circulation. You can watch the night sky through the screen roof when it's not raining. But when it rains, just install the rainfly that's designed to serve as a door awning.
If you have to organize small gear, there are mesh pockets. And if you want a power source, you can bring one in through a "port" hole. Nothing is missing from this affordable tent!
Not to mention…
Sundome is super lightweight for a 6-person tent. Transporting it to your campsite or carrying it backpacking wouldn't be a problem.
Plus, it comes with an instructional guide for assembling and collapsing it. But based on our experience, you wouldn't need that at all!
Best Weatherproof Camping Tent – Top Pick Award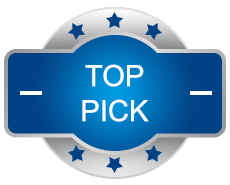 ALPS Mountaineering Lynx 1-Person Tent
Size – 32 x 90 x 36 inches
Accommodation – 1-Person
Material – Polyester; aluminum
Weight – 3.97 lbs
Manufacturer – ALPS Mountaineering
The Bottom Line:
You can camp worry-free under any weather condition with the ALPS Mountaineering Lynx 1-person backpacking tent!
Pros
Waterproofing features are very effective

The rainfly is UV-resistant

Easy and quick setup

Durable and sturdy fabric and poles

Compact and lightweight

It has a gear storage vestibule
Cons
Expensive

It can only accommodate one person
Summary
The Lynx one-person tent is less than 4 lbs so you'll be able to carry this on your back for long periods. That's why it's best used as a backpacking tent.
And it's one of the best!
We were already impressed by its durable polyester walls and aluminum poles. And we loved it even more after we got caught in heavy rainfall. 
Its tent body fabric is completely waterproof – even the vestibule part – and its factory-sealed seams had no leaks at all!
Add to that…
The rainfly that blocks water can also block sunlight! It's UV-resistant so you can set it up under the scorching sunlight to prevent the tent from heating up.
So, rain or shine, this Lynx tent will keep you comfortable.
That's why it's our Top Pick tent! 
Also…
Since it's small, setting it up is like a walk in the park. It's made to be easily assembled by one person. After all, one person is all that it can fit.
But there's still plenty of room for your fear. There's a vestibule on one end that has the same waterproof and heat-proof features as the rest of the tent. So, even your gear will be completely safe!
It might be more expensive than other products on this list, but it's worth every penny.
Best Most Spacious Camping Tents
Coleman Octagon 98 Full Rainfly Signature Tent
Size – 38 x 13.5 x 13.5 inches
Accommodation – 8-Person
Material – Polyester
Weight – 45.85 lbs
Manufacturer – Coleman
The Bottom Line:
Camping will feel like home with Octagon 98's 8-person floor space and removable privacy walls!
Pros
Wide and efficient interior space

Easy to set up

Includes rainfly and taped seams

Removable room divider

Storage pockets have cupholders

Well-ventilated
Cons
Expensive

Heavyweight

Slightly less durable tent and pole material
Summary
We all know that an octagon has eight sides. So the Coleman Octagon 98 has eight nearly vertical walls. If eight people set up sleeping pads around the tent's perimeter, there'll still be plenty of storage space for your camping gear at the center!
But that's not all…
If you're camping with several people and need a little privacy, you can divide this tent's living space using the removable room divider. It's super easy to attach and detach.
Another easy thing to do is to set this big tent up. You can have it up and liveable in less than 15 minutes – in even a shorter time once you get the hang of it!
Only…
Octagon 98 is too heavy – even heavier than other car camping tents. But that's the price of a huge and cozy space.
We hoped it could be more durable since it's more expensive than most 8-person cabin tents we found. But it's still sturdy and won't get punctured easily.
Besides…
Its features will keep you comfortable even in inclement weather. 
It has a mesh window and mesh roof to keep the interior well-ventilated even in the summer. In the case of a downpour, you can rely on its polyester walls and rainfly to keep the water out. The taped seams prevent leaks too.
Plus…
The tent has two doors, storage pockets, and cupholders. We thought we could live in this tent for months!
Best Compact Size Camping Tent
TETON Sports Vista Quick Tent; Dome Camping and Backpacking Tent
Size – 80 x 37 x 34 inches
Accommodation – 1-Person
Material – Micromesh; Taffeta
Weight – 5 lbs
Manufacturer – TETON Sports
The Bottom Line:
With TETON Sports Vista 1-person tent!
Pros
Affordable

Full mesh top for better view and ventilation

Includes a gear loft

Compact and lightweight

Easy set up and transport

High-quality rainfly that extends to the ground
Cons
Some durability issues

It gets too cold inside

It accommodates only one person
Summary
The TETON Sports Vista 1 has enough room for only one camper. So if you like backpacking by yourself – or you like your sleeping space to be as private as possible – this is the tent for you!
Also…
If you like a starry view at night, you can enjoy it with Vista! The top half of its walls are made of mesh material. So, even while inside the tent, you'll be surrounded by such a beautiful view.
The mesh walls also keeps the interior well-ventilated. That's a great feature during the summer. However, be sure to prepare thick sleeping pads because the cool night air might make you shiver at dawn.
But when it rains…
Vista's Taffeta material is effectively waterproof! The lower half of the walls would keep the water out. Although, when we got caught in a light rain, we had to use a footprint to keep the floor form getting damp.
But this tent comes with a rainfly that extends all the way to the ground. So it's still safe to use even when the weather's unpredictable.
On top of that…
Its lightweight and compact collapsed state is so convenient. It's easy to carry it around as a tent for backpacking. And you won't have problems setting it up because it's designed for quick set up.
We could tell that its overall build wasn't as sturdy as other tents. Its material is thinner, and the poles are slightly flimsier.
But considering the price, it's quite the steal!
Best WeatherMaster Camping Tent
Coleman WeatherMaster 10-Person Outdoor Tent
Size – 30.31 x 10.23 x 10.23 inches
Accommodation – 10-Person
Material – Fiberglass; alloy steel
Weight – 30.86 lbs
Manufacturer – Coleman
The Bottom Line:
Choose the WeatherMaster for the ultimate weather protection!
Pros
Relatively affordable

Durable poles

Removable room dividers

Effective waterproofing features

Includes mesh roof and rainfly

Hinged door
Cons
Hard to set up

It has only one door

The mesh and wall materials are less durable
Summary
One of the biggest bummers of planning a camping trip is the unpredictable weather. But you don't have to let that stop you. Especially not now, when Coleman's WeatherMaster is just within your reach!
For its capacity…
WeatherMaster is an inexpensive tent. You won't find a lot of 10-person tents at the price of an eight or six-person one. And a cabin-style one at that!
Its walls are made of polyester, though, which is less durable than other cabin tents we've tried. But it's fiberglass and aluminum poles are sturdy and stable. You can be camping in a windy area, but this tent will hold up.
Also…
You can be camping under heavy rain, light snow, or scorching heat. No worries!
Its rainfly effectively resists water, and there are no leaks at the inverted seams and welded tent floor. 
If you need ventilation, the mesh roof and windows will do that. And those windows are angled, so you can have great airflow while still protecting yourself from sudden rain.
With WeatherMaster…
You'll never worry about space. It can fit up to three queen-size airbeds. If you only have one or two, there'll be plenty of room for your gear. And if you need some privacy, there are removable dividers just for that!
We were a little disappointed that there was only one door. With a space like this, two would be convenient. But what's impressive is that the one door has hinges.
That's right! Although, it took us a moment to assemble this tent because of its many features. But if you use it repeatedly, you'll learn the best and quickest way to set it up.
Best Bug-Free Lounging Camping Tent
CORE 6 Person Straight Wall Cabin Tents
Size – 120 x 108 x 76 inches
Accommodation – 6-Person
Material – Polyester
Weight – 25.4 lbs
Manufacturer – Elevate LLC
The Bottom Line:
This Elevate LLC Core 6-person tent has a mesh room that will keep the bugs out and the cool air in!
Pros
The nearly vertical walls give more head space

Includes ground air vents, a mesh room, and mesh roof

Includes a rainfly

It has a lantern hook and gear loft

Great for warm weather camping

Steel poles are durable

Easy to set up and store
Cons
Relatively expensive

Leaky seams

The rainfly isn't that effective

Heavy for the size
Summary
This straight wall-style is relatively expensive, even for a 6-person tent. But it has great features that you'd find very useful when camping.
However…
This tent is not the best for rainy or snowy weather. Its rainfly might provide some cover, but it's not made of heavy-duty material. But we still gave it a high Durability score because of the steel poles and polyester wall fabric.
It can hold up against a strong wind, but the seams tend to leak. We had to seal them off  after the first use to make sure they worked properly on our next camping trip.
That's why…
We recommend this CORE tent for summer camping. Its features are more specialized for keeping the hot air out.
Elevate made this tent with a mesh room and ground air vents to keep the interior cool. And if you want more ventilation, you can extend the tent by setting up the mesh room.
You heard that right!
This tent has a mesh room that doubles the airflow while keeping the bugs from entering the tent. It'll be like a covered patio, but without all the insects!
So, this might not be the tent of your dreams for cold weather camping, but it's your best bet during the summer.
Not to mention…
You can set it up in no time at all!
There's a setup manual in the package, but you won't need one, especially if you've been doing it for quite some time now.
And when the adventure's over, you can collapse this tent just as easily. That's comfort and convenience in one package!
Section 3: Why Trust Us?
Just because we keep going on outdoor adventures doesn't mean we find it comfortable. That's why we went on the road to find the best outdoor shelter that would give us comfort at camp. But it also has to be durable and, as much as possible, affordable.
So…
After buying a bunch of them, we opened those packages and listed our first impressions. We took in the fabrics, poles, carry bags, and add-ons. Then we set them up in our backyards first before taking them to the field.
Once there, we noted the space, features, and overall feel of them under different weather conditions. Of course, we didn't all agree about everything. But we collated our observations and based the metric scores on them.
Lastly…
We wrote this article to help you find the best camping tent for your adventures!
Section 4: Buyers Guide: How To Choose The Best Camping Tents
What are the different types of Camping Tents?
Backpacking tents – compact and light tents that you can easily carry
Car camping tents – tents with large interior spaces that are usually too heavy for backpacking.
Dome tent – usually made of light materials and has smaller floor space.
Cabin-style tents – are usually made of heavy-duty materials and have larger vestibule space.
Features to look out for:
Cabin tents usually have hinged doors that make camping more convenient.
The best camping tent is both waterproof and heat-proof.
Camping tents and specifications explained:
A camping tent is a collapsible shelter made of fabric and poles to protect campers from heat, rain, bugs, and other outdoor elements.
Size – the collapsed size of a tent is important to know how portable it is.
Accommodation – you should know how many people can be accommodated by a tent before you buy it.
Material – this is the biggest factor of durability.
Weight – this will hint at the tent's portability, assembled size, and durability.
These are things to consider:
Nylon tents are more durable than polyester, but they absorb more heat.
Polyester is more weather-proof because it absorbs less heat and is resistant to water. But it's less durable.
Fiberglass tent poles are more durable and stable, but they're heavier.
Jargon buster:
Tent Footprint – light material that you spread underneath the tent floor for extra protection from abrasives and moisture.
Awning – roof-like extensions that offer shade from the sun or cover from the rain.
Best Camping Tents Top Tips:
Nylon tents are more recommendable when going winter camping.
Sleeping bags can save more interior space than air beds or waterbeds.
Section 5: FAQ: Frequently Asked Questions
Q Which tent is best for camping?
A – Coleman tents are generally durable and compact. Items in this top list are some of the best ones you'll find on the market.
Q – How to Pick the Perfect Tent
A – The best overall camping tent should be waterproof, puncture-resistant, and portable.
Q – What specs are important?
A – The most important specs in choosing the best family camping tent are size, weight, material, and capacity.
Round-Up
Now you've seen the best overall camping tent! You can choose that one now and enjoy its advantages.
But… Each tent has its specialty. So, you have to see their rankings in terms of each metric. You'll see the tents that excelled in the specific quality that you think is more important. And it might be the one that you're looking for!
Section 6: Our Analysis, Comparisons & Test Results
Value for Money
Coleman is known for being one of the most affordable brands on the camping tent market. Still, you'll find some of them that are more expensive than others.
It would be alright if they were automatically better. But some cheap ones have better quality than expensive ones. That's why we have this metric.
As for these tents…Our Best Value Sundome and Editor's Choice 8-Person exceeded our quality expectations. They're more durable and comfortable than most of the others despite being the cheaper tents on the block.
Ease of Setup
Tents are made for convenience. So, we deemed it important that they're easy to set up. And it's not just about assembling it. These tents shouldn't give us a hard time being stable.
Once again…
It's our Editor's Choice 8-Person and Best Value Sundome towered over the rest in this metric.
But the few points that we took off the others are mostly minor inconveniences. You'll still get the hang of them after several uses.
Durability
First, we considered the fabric of the walls. Then, the material for the poles. And after that, we inspected the seams, zippers, attachments, etc. But the test for its overall build came when we subjected them to rough camping conditions.
There were abrasive things on the ground, and bugs and small animals visited us. But…
All the tents in this list held up just fine! There were no punctures or other damages even as we hauled them back to our homes.
Compact Design
You might think that a huge interior space automatically means that the tent is big and heavy in its collapsed state. But that's not always true.
In fact…
These tents have spacious interiors. Some of them even have dividers. But they're not as heavy as we expected them to be. And their carry bags can effectively keep them compact.
The Instant Setup, Dome, and Octagon 98 might have lower scores in this metric, but that's only because they're heavier than others of the same sizes as theirs. Besides, you'll see that they have high durability scores.
Weather-Proof
Backpackers and car campers alike are more prone to look for waterproof tents. But resistance to rainwater or moisture isn't the only thing you should look for.
Hence…
… the Weather-Proof metric! Campsites range from snowy – to rainy – to sunny all within the blink of an eye. And many camping tents are only made to keep the rain out. But how about the heat?
Our Top Pick ALPS Mountaineering Lynx and Octagon 98 are the best ones on this front because of how effective their waterproofing features are. And they're also built to keep you comfortable in the summer.
TETON Sports Vista 1 and WeatherMaster are great contenders as well!
Our Final Verdict: Best Camping Tents
All things considered…
Our Editor's Choice is the Coleman 8-Person with its durability and convenience packed in one affordable tent. You can say the same thing for our Best Budget Sundome.
And you can't go wrong with our completely weather-proof Top Pick ALPS Mountaineering Lynx!
So…Those have been the best tents in terms of price, durability, and convenience. All you have to do now is take your pick!
Section 7: Conclusion: Best Camping Tents
Your search for the best camping tent is over! Now, you just have to decide which of these would fit right to your liking…
You might like…
… the compact ones. ALPS Mountaineering and TETON Sports Vista 1 are great backpacking tents. They're spacious enough for one person and some gear. And they're super easy to set up.
And if you're a the-more-the-merrier type, Coleman's Sundome and 8-Person car camping tents are easy to carry despite their spacious design.
But if you're going car camping, you won't mind the heavier tents, right? Especially if they're as durable and comfortable as Coleman's Octagon 98 or Elevate LLC's CORE tents!
Surely…… you won't run out of choices with this top list. So, we'll see you out there, buddy!