There's only one thing missing from your camping gear – a durable and sharp knife like one of these!
You need to invest in a survival knife that makes camp life easier – preferably not one that'll give your hand blisters before you can even cut a rope…
That's why…
You should check out this top list of the best camping knives on the market for [currentyear]. We have their specs, a detailed description of our experiences using them, and also:
Which of these knives are durable, well-built, versatile, sharp, strong, and has great value for its price;
Their advantages, disadvantages, and extra features;
What works best for heavy-duty tasks and what's great for bushcraft tasks;
Tips about choosing the best camping knife; and
So much more!
Don't miss out on our award winners – the Editor's Choice, Best Value, and Top Pick knives have great qualities to offer!
Hold tight!
Let's slice through this…
INTRODUCTION
Camping knives, survival knives, tactical knives… All of those are almost the same. They only differ in their main purposes. But you can use each one as another.
So we got every knife that we could get our hands on to find the best one. We had one thing in mind – making camp life easier to enjoy the outdoors more.
So…
We took those knives to our trips and tried them against paper, rope, wood, fish, and meat. We noted how sharp they are, how comfortable it was to use them, and their conditions after all the hard work.
Knives are dangerous tools, so we added safety to the judging metrics. And once we were satisfied with our observations, we decided to give you this article.
And hopefully…
… you will find the best knife for you too! Then, we'd know that our efforts paid off.
Best Best Camping Knives
Best Ultra-Sharp Camping Knife – Editor's Choice Award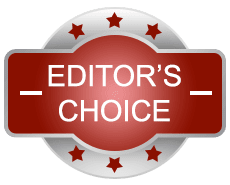 Mossy Oak Survival Hunting Knife with Sheath
Blade Length – 10 inches
Handle Material – Rubber
Weight – 16.8 ounces
Blade Type – Fixed
Manufacturer – Mossy Oak
The Bottom Line:
Slicing, skinning, batoning, wood splitting – name it, Mossy Oak is sharp enough to do it!
Pros
Includes sheath, fire starter, and blade sharpener

Secure and comfortable grip

Affordable

Sharp blade with great edge retention

Durable overall build
Cons
Big and heavy

Add-ons are less durable

The blade finish easily scrapes off
Summary
Fixed blade knives aren't the first choices when thinking about camping. They're usually more expensive than folding knives. But Mossy Oak changes the scene!
How so?
Mossy Oak won't hurt your budget at all! But despite its affordable price, its quality is undeniable.
This knife has a stainless steel blade with a clip point tip and a serrated spine. And it's ultra-sharp that it's all you need for all the camping chores that require a knife!
You'd enjoy those chores too because of its non-slip rubber handle. It provides a secure and comfortable grip. Your hands won't hurt after a day's work with Mossy Oak.
Only…
Mossy Oak's sharpness and durability make it a great survival knife. But its size and weight may bug you down on your backpacking or camping trips.
But even though it's not compact, it can do a lot of camping chores so you wouldn't have to bring so many tools. It's durable enough to use for batoning, and its edge retains its sharpness even after heavy-duty wood splitting. 
It might be too big. But with careful attention, you can use it for delicate chores like skinning games, slicing meat, etc. So there's no doubt why it's our Editor's Choice!
Also…
When the blade starts to dull out, you can simply pull the sharpening stone that comes with it and hone the edge. But don't expect that it would look good as new because its black paint finish doesn't last.
Aside from that, the package contains a sheath and fire starter too! These extras aren't as durable as the knife itself but still useful.
So, overall…
Mossy Oak has more value than expected from the price. It will be your survival companion for a long time, and it will make your camping life more convenient and comfortable!
Best Budget Camping Knife- Best Value Award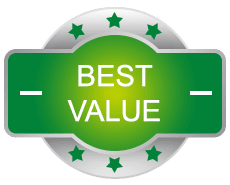 Pocket Knife – Tactical Folding Knife – Spring Assisted Knife
Blade Length – 3.7 inches
Handle Material – Plastic
Weight – 4.23 ounces
Blade Type – Folding
Manufacturer – Grand Way Knives
The Bottom Line:
You won't believe how affordable this foldable GW knife is with its additional tools and high-quality build!
Pros
Super affordable

Compact, and lightweight

Includes extra tools

Razor-sharp blade with great edge retention

Durable blade

Easy opening and folding mechanism
Cons
Uncomfortable grip

Its locking mechanism needs improvement

The handle is less durable
Summary
For such a cheap price, we didn't expect this knife to come with a lanyard, Ferro rod, pocket clip, and whistle. Not to mention, the knife itself is sharp and durable!
You can guess why it's our Best Value award winner!
Its size and weight make it perfect for everyday carry. And its sharpness – straight out of the box – makes it great for camping chores!
A four-inch drop point blade makes delicate bushcraft and survival tasks easier. You can skin, slice, and dress your dinner with it. You can make wood stakes or split softwood too! And after all these chores, the edge will remain sharp for the next days' tasks.
However…
Whereas its blade is sharp and durable, its handle isn't as impressive.
The plastic seems flimsy and uncomfortable. And its line lock is a bit loose. 
So we had to take points off the Craftsmanship and Safety metrics.
Still…
This GW knife is safe because of its thumb stud and spring-assisted opening. These features will allow you to open and close the knife with one hand.
We found these qualities in other pocket knives too. But not all of them are as affordable as GW!
Best Versatile Fixed-Blade Camping Knife – Top Pick Award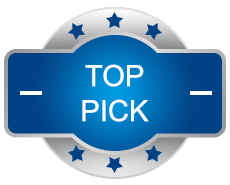 Morakniv Companion Fixed Blade Outdoor Knife
Blade Length – 4.1 inches
Handle Material – Plastic
Weight – 0.26 lbs
Blade Type – Fixed
Manufacturer – Industrial Revolution
The Bottom Line:
Morakniv Companion won't back down on any camping chore – heavy-duty and delicate tasks alike!
Pros
Affordable

Durable and sharp blade

Good edge retention

High-friction grip
Cons
The plastic sheath damages the blade

Prone to rust
Summary
It's a given that camping knives should be durable and sharp. That way, it won't break easily. But another thing that we want from them is versatility.
In other words…
You should be able to do a lot of different tasks with it. It should be useful in splitting wood for kindling, carving wood into stakes for hunting and protection, etc. And it would be great if it's also handy for food preparation.
That's why Morakniv Companion is our Top Pick! 
This knife is just the right size and shape. It's big and sturdy enough for heavy-duty chores like batoning and the like. It's also small enough for delicate skinning, dressing, and food prep tasks.
Not to mention…
Companion has a super secure and comfortable high-friction grip. 
We worked around the camp for hours using this knife. Sure, we got tired. But there were no blisters or wounds on our palms – we can't say the same thing about the other knives we tried.
Just a little note:
After exposing it to moisture, make sure you clean it well. And wipe it dry before storing it, especially if it's wet with saltwater. We got this wrong with our Companion knife and ended up with a rusty spine.
Also, its plastic sheath is not good for the blade. But since it's necessary for your safety, you just have to be careful when sliding the knife in. 
For an affordable knife…
We were pretty impressed by the Morakniv Companion. It doesn't come with add-ons, but its durability and functionality can make up for that!
Best Heavy Duty Field Camping Knife
KA-BAR Becker BK2 Campanion Fixed Blade Knife
Blade Length – 5.25 inches
Handle Material – Girvory
Weight – 453.6 Grams
Blade Type – Fixed
Manufacturer – Ka-Bar Knives, Inc.
The Bottom Line:
Ka-Bar Campanion is the ultimate knife for your heavy-duty camping needs!
Pros
It comes with a durable nylon sheath

Great for heavy-duty tasks

Durable blade, handle, and sheath

Razor-sharp blade

Good edge retention
Cons
Expensive

Big and heavy

Uncomfortable grip

Prone to rust
Summary
If you're looking for one tool that can do almost everything at camp – including building a shelter – a full-tang fixed blade knife is your best bet.
Lucky for you…
The Ka-Bar Campanion exists! It's one of the most recommended fixed blade camping knives because of its durability. However, you need to prepare your pockets for this.
But you won't mind it that much because of its high-quality materials. Campanion's blade is made of high-carbon steel. Its handle is of Grivory, and it has a nylon sheath. All of those are the best out there!
And on the field…
Ka-Bar Campanion performed so well. It's a bit heavy, so we were confident using it for batoning. And it held up great that we could make a lot of firewood in a short time.
It was also useful for even heavier tasks. We had to make stakes and cut up some thick branches for bushcraft cooking and shelter making. And Campanion didn't let us down!
Only…
The handle wasn't the most comfortable to grip. And its weight doesn't help. If you easily get tired, this might be an inconvenience for you.
But you won't have to exert too much effort on your tasks. Its super-sharp blade has you covered! You only need to make sure it's clean and dry when storing it, and there'd be no rust problems.
Plus…
There's no need to hone it too often. Even after one whole camping trip, its edge will remain sharp as a razor!
Best Durable Camping Knife
ESEE – 4 Plain Edge Black Sheath Black Blades with Micarta Handle
Blade Length – 4.5 inches
Handle Material – Grey linen micarta
Weight – 7 ounces
Blade Type – Fixed
Manufacturer – ESEE
The Bottom Line:
If durability is your priority, ESEE-4 is your heavy-duty knife!
Pros
High-quality materials

Durable blade and handle

The sheath has a pocket clip

Comfortable grip

Sharp blade

Great edge retention
Cons
Expensive

Not for delicate bushcraft tasks

Prone to rust
Summary
Fixed blades are your best choices in doing most of your chores around camp. And one of the best choices among them is the ESEE-4. 
This plain, flat-ground, full-tang knife can withstand all the hard work you can put it through.
Because…
Its high-carbon steel blade is sturdy enough for batoning. The blade edge is as sharp as they go, so it will glide through soft or hardwood – whatever you need. 
And you can keep working too because it won't dull out quickly. Just don't store it before cleaning and wiping it dry to prevent rusting.
Also…
It's great for those heavy tasks because of the Micarta handle. It might not be known for its durability, but it's a light material best paired with full-tang fixed blades. 
This combination allows a comfortable grip. Add in the finger grooves, and this knife becomes secure inside your palm.
You can work in peace knowing that it won't fall apart or off your hand!
That's why…
Even if it's a bit expensive and too thick for food prep and other delicate tasks, ESEE-4 is one of the top camping knives. 
And we recommend it if you want a solid knife that will last you about a lifetime!
Plus…
ESEE-4 has a Kydex sheath that's not as durable as the blade but still long-lasting. While the sheath keeps you safe, the built-in pocket clip will keep the knife safe.
Best Handmade Camping Knife
Helle Knives – Temagami – Triple Laminated Carbon Steel
Blade Length – 3.5 inches
Handle Material – Birchwood
Weight – 155 grams
Blade Type – Fixed
Manufacturer – HELLE
The Bottom Line:
You can rely on Helle Temagami's carefully crafted quality to make camp life easier!
Pros
Durable stainless steel blade

Sharp blade

Great edge retention

Durable handle and sheath

Comfortable and secure grip
Cons
Very expensive

The tang is off-center

Imbalanced
Summary
Helle is a popular brand that sells premium knives. And most reviews about their products that you'll find online are positive. So, we gave it a chance despite being expensive.
And we regret nothing!
We forgot to keep in mind that Helle knives are handmade. So there had to be inconsistencies in their make. But we thought that shouldn't be an excuse for the slightly off-center tang.
This knife's build is secure and the screws are intact. However, the handle is thinner on the left side so the full-tang blade slightly skews to the left. This has significant damage to the knife's balance.
Good thing…
Its birch wood handle is smooth and comfortable to grip. The finger grooves also add security so you won't have to worry about it falling out of your hand while working on your chores.
And its blade is so sharp that you won't have a hard time with your wood cutting tasks.
Temagami has a Scandi grind, which is the easiest to hone – not that you need to hone it all the time because it has great edge retention. But that grind and its short blade length make this best for food prep and other delicate tasks.
Not only that…
It's made of durable stainless steel and the blade, being a Scandi, is thicker than most. So we were pretty impressed by how Temagami withstood batoning! A small knife like this doesn't usually perform like that.
Also…
It comes with a durable leather sheath that completes the knife's premium look. And it's more than just the looks.
The leather sheath will protect you from accidental cuts. And it's safe for the blade as well because unlike other sheath materials, leather doesn't damage the blade edge.
So, we dare say that Helle Temagami holds up to its reputation!
Best High Quality Camping Knife
Morakniv Companion Spark 3.9-Inch Fixed-Blade Outdoor Knife
Blade Length – 3.9 inches
Handle Material – Rubber
Weight – 4.5 ounces
Blade Type – Fixed
Manufacturer – Industrial Revolution
The Bottom Line:
Morakniv did it again with another high-quality knife and flint in one affordable package!
Pros
Affordable

Includes a fire starter

Durable overall build

Sharp edge with great edge retention

Rust-resistant

Compact and lightweight
Cons
Less durable sheath and fire starter

The sheath comes loose

Imbalanced

Uncomfortable grip
Summary
Morakniv fixed blade knives are known to be affordable and durable. And Companion Spark proves that!
The blade and handle are reliably sturdy, even for batoning. But because of its length, this knife is more suited for delicate bushcraft tasks. However, we're not saying you should underestimate how it performs heavy-duty chores.
Because…
It's sharp enough to split softwood, make stakes, shave wood, cut thick ropes, etc. And even after much use, it's still sharp for the next few days. We didn't even have to hone it once during our camping trip.
Also, its high-quality stainless steel blade doesn't rust quickly. You still need to store it clean and dry. But even after exposure to moisture and sunlight, there were no damages to our Mora knife.
Plus…
The package is complete with a sheath and a fire starter! They're not as durable as the knife, though. The flint easily scratches off, too, and we had to buy a new one after our first trip.
As for the sheath, it offers protection up to some degree. But it comes a little loose on the blade. It doesn't lock the way that we would've preferred. You might lose the sheath if you use a lanyard and hang this on your belt or neck.
And even though the handle is of the same material as the sheath, it's still more durable. That's how it withstood such tasks as batoning. Although, the finish is a bit uncomfortable to grip.
Still…
For a survival knife, Morakniv Spark exceeded most of our expectations. It's highly recommendable, especially if you're looking for a lightweight knife that wouldn't add to your backpack's bulk.
Why Trust Us?
Camping knives are not that complicated. You might think about their grind, bevel, or other blade specs if you're knowledgeable about them. That can help, for sure. But the real test is on the field.
And we did that for you!
As soon as we received each knife, we took them out of the box to inspect their make. We also noted the specs written on the packaging and their accuracy.
Then, we took them to camp.
Each knife had its turn on different chores. We had to make firewood and kindling using different methods. And the knives weren't exempted from shelter building. We also had to hunt, slaughter, and dress small games for food.
After the hard work…
We were able to find the best camping knives! Gathering our experiences and observations is just as fun as trying the knives. And hopefully, this article will help you find the right one for you too!
Buyers Guide: How To Choose The Best Camping Knife
What are the different types of Camping Knives?
Folding knives – (AKA foldable knife) the blade folds into a pocket in its handle.
Fixed – the blade doesn't fold but is kept using a separate sheath.
Full-tang – knives with blades that run through the whole length of the handle.
Half-tang – knives with blades that run only up to half the length of the handle.
Features to look out for:
The basic features of the best camping knife are compact and lightweight yet sturdy and durable.
When you buy a camping knife, make sure it comes with a durable sheath that doesn't damage the blade's sharpness.
The most functional extras for a camping knife are a fire starter, belt or pocket clip, lanyard, whistle, and sharpening stone.
A serrated edge – or even just a half-serrated blade – adds versatility to the knife.
Camping knives and specifications explained:
Camping knives are compact knives designed for versatility. They're used for camping tasks such as splitting wood, batoning, making ropes, starting fires, skinning games, and other survival activities.
Blade length – the length of a knife's blade gives you an idea of what tasks it's best used for.
Handle material – durability, comfortability, and grip security depends highly on the handle material.
Weight – a knife's weight is important to know whether or not you can use it for everyday carry.
Blade type – is a factor of compactness, durability, balance, and ease of use.
These are things to consider:
Stainless steel is rust-resistant and looks better, but it's less durable.
High-carbon steel is more durable but also more prone to rust.
A small folding knife or Swiss army knife might be easy to carry, but it's not the best camping knife in terms of versatility.
Jargon buster:
Batoning – wood cutting technique that uses a baton-sized stick to strike a knife spine as its edge splits the wood.
Grivory – a type of thermoplastic material.
Grind – the cross-section shape of the blade.
Best Camping Knives Top Tips:
Drop point blades are preferable for general use, so they're more versatile. So it's the best choice for campers. Hunters also like it because it's easy to control when slicing.
Clip point blades are more common for hunters because it's best for slaughtering and dressing games.
A Scandi grind is considered an all-around grind. So if you want to be safe, this is the best choice for a camping knife.
If you're a hunter, a hollow grind will work best for handling your games.
If your camp involves a lot of whittling, cutting, or splitting wood, a convex grind will make life easier for you.
FAQ: Frequently Asked Questions
Q – What kind of knife should I take camping?
A – A camping knife should be compact, easy and comfortable to use, durable, and useful in both heavy-duty and delicate tasks.
Q – Do you need a knife while camping?
A – Yes, because camping knives are necessary for making firewood, ropes, stakes, and even protection from immediate harm.
Q – Are camping knives legal?
A – Depending on your state, there are different laws that govern carrying of knives. But the most common information you need is the length limit and blade type (whether it's legal to carry a folding blade or other easily concealable weapons.)
Round-Up
We've spoken about our experiences and observations with these camping knives. But you should let the numbers speak.
You'll see which ones are the best at each metric in the next section. If you want a particular quality from your knife, go ahead and scroll down! These rankings will help you choose exactly what you need to complete your gear!
Our Analysis, Comparisons & Test Results
Value for Money
They say you can't put a price on quality. True enough, but we found camping knives with the best qualities yet are cheaper than most on the market!
Namely…
… our award winners! Editor's Choice Mossy Oak, Top Pick Morakniv Companion, and our Best Value GW folding knife. They're all light to the pocket but heavy on durability and usefulness. They exceeded all our expectations!
However, there are others on this list that are more expensive than your usual survival knife. But they still meet certain expectations and are great additions to your camping gear.
Ease of Use
The easiest to use in this top list is Editor's Choice Mossy Oak and Top Pick Morakniv Companion. They have comfortable grips and are versatile in their purpose around the camp.
This is an important metric because you should know if the knife can make your life easier in camp. The biggest factors of this metric are size, weight, handle material, blade and handle designs, and locking mechanism for the foldable knife.
But…
Just because we took a few points off doesn't mean that these knives are hard to use. There are just issues about the grip and compatibility of the sheath. But they're all helpful in performing camping chores.
Durability
One of the most important metrics is Durability. It mostly depends on the quality of the materials used for the blade and the handle. Although we took that into account, we still judged heavily on how these survival knives performed at camp.
And we found out…
… that the ESEE-4 has the best durability compared to other knives in this list and on the market!
Even its sheath is well-built!
But all of the camping knives that made it to this list are pretty impressive. They endured cutting through wood, batoning, and other chores. And they have the most rust-resistant blades that maintain their sharpness even after heavy use.
Craftsmanship
There's no such thing as a perfect camping knife. Trust us; we've searched for it. There's always an issue, and you have to control your expectations.
But we also found that there are knives that are as close to perfect as can be! The ones in this list proved to be crafted with utmost care.
Quality, balance, versatility, and durability were surely in the manufacturers' minds.
Especially…Our Editor's Choice Mossy Oak, our Best Value GW pocket knife, and the Ka-Bar Campanion knife!
Strength and Safety
The blade's sharpness and edge retention are the most effective factors of strength. And as for safety, we considered the sheath's fit, the folding knives' locking mechanism, and how secure the handle grip is.
Upon field testing…
We were impressed by how comfortable and secured the Editor's Choice Mossy Oak handle is. And Helle Temagami's leather sheath keeps both the blade and the camper safe.
As for the others…
These knives have the best quality blades we've seen. Some of them need careful attention so they won't rust. But they all remained sharp and intact after heavy-duty and delicate camping tasks.
Our Final Verdict: Best Camping Knives
Overall…
Mossy Oak is our Editor's Choice because of its exceptional sharpness, durability, and comfortability. Our Top Pick Morakniv Companion might not be the best at everything, but it sure towered over the rest in versatility and security.
And you can't go wrong with one of the most affordable knives on the market, the GW pocket knife! It's surprisingly one of the best in quality, so it's our Best Value!
Just take your pick…
… because these knives are reliable in the field. You can make kindling, build shelters, prepare food, and do other tasks in peace with them!
Conclusion: Best Camping Knives
You must enjoy your outdoor adventures, and not even the chores should stop you from doing that. And these knives will make those chores easier!
Sure…
The Ka-Bar Becker Campanion, ESEE-4, and Helle Temagami camping knives are expensive. But you won't waste a penny with their sharpness and overall durable build.
Not to mention how classy-looking the handmade Temagami is!
But…
Don't let your budget stop you! Mossy Oak, GW, and the Morakniv knives will deliver the best quality and comfort that you need at camp.
And if you're looking for compact and lightweight ones, go ahead and grab either the GW folding blade or the Morakniv Companion Spark.
Whatever you choose…
… it's going to level up your camping experience. So, we're not going to keep you any longer. Your adventure awaits!